Field Trip Details
Cost: $225
Length: 45 minutes 


Choose your own virtual field trip experience! Two Zoo Educators will guide you on your adventure, one in our Distance Learning studio, and one at the Zoo locations you choose so you can see what the animals are doing! Your students will have a blast learning about Zoo animals and interacting with Zoo Educators while never leaving your classroom.   
We are able to accommodate groups of no more than 500 individuals for virtual field trips, for participants within a reasonable age/grade range. Please note, however, that for groups larger than 35 participants, we will present Zoom webinar style. You will be able to see and hear the presenters, but the presenters will not be able to see or hear the participants. Participants can still interact via chat and the Q&A feature in Zoom. We do require a minimum of two week's booking notice for virtual programs.
Animal Adaptations: Learn about the behaviors and specialized features animals have that help them get what they need. 
Missouri Science Grade Level Expectations: 3.LS3.B.1, 4.LSD1.D.1, 6-8.LS1.B.1, NGSS: 3-LS3-1 (LS3.B), 3-LS4-3 (LS4.C), 4-LS1-1 (LS1.A)
What it Takes to be a Zoo Keeper: Learn about how the keepers take care of the animals and what their daily routine is like. 
Animal Classification: Learn why scientists place animals into groups and discover more about specific vertebrates. 
Missouri Science Grade Level Expectation 5.LS1.A.1
Pole to Pole: Learn about animals that live in extremely cold habitats in the wild and what it takes to survive those freezing temperatures. (Recommended for the Aquatic Adventure)
Jungle of the Apes/Bird House: From the super strong to super flight, you'll learn about our apes and bird species at the Zoo. 
Herpetarium/Primate House: From reptiles and amphibians to monkeys and lemurs, this virtual adventure is sure to have something for everyone.
River's Edge Safari: Hop continents while never leaving your classroom. Students will have an engaging adventure exploring Zoo animals on River's Edge. You'll never know what you'll see! 
Marvelous Mascots: Is your school mascot an animal? We can connect the virtual field trip adventure to learn about your mascot!* (NOTE: subject to availability) 
Aquatic Adventure: On this adventure, we will visit water-loving animals who live at the Zoo. Our visit may include any of the following: Polar Bear Point, Penguin-Puffin Coast, Sea Lion Sound, Stingrays at Caribbean Cove. (*Caribbean Cove subject to availability April-October)
Dinoroarus Discovery: Take a journey back in time to learn about dinosaurs while seeing our amazing Dinoroarus exhibit up close. (Only available April- October)
Virtual Turtle Tracking
Audience: 3rd grade and up
This program offers a unique experience for your classroom to join in on a conservation research project. A field biologist will join your classroom virtually as they radio track wild box turtles living in Forest Park. Your classroom will learn how biologists use a radio antenna to locate turtles, and virtually assist with the observational health exam and recording data needed for this study. During this program students can observe box turtle adaptions and habitats. Students will have an opportunity to ask a field biologist questions about this ongoing project and how to help turtles here in the United States and around the world.
Program length is 45 minutes and offered May through October

For additional information email outreachrequests@stlzoo.org.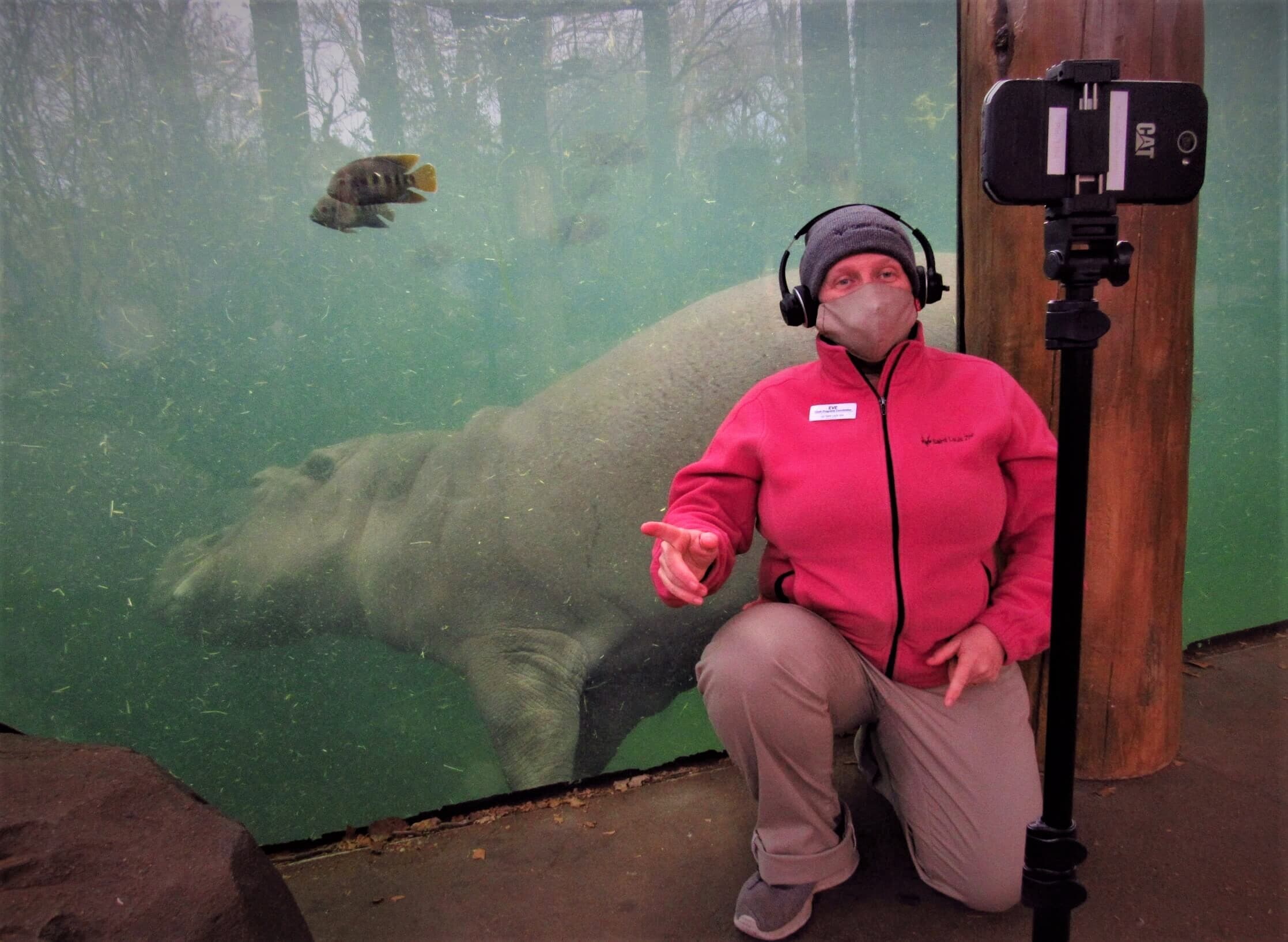 An invoice will be sent promptly once a program date and time is agreed upon. A credit card payment for the full amount will be due within two business days of the invoice being emailed. If you need to pay via check, a minimum of two months booking notice is required. Your program is not confirmed, and a unique Zoom link will not be provided, until full payment has been received. We are unable to schedule programs with less than two weeks' notice.
One Month Prior to Program:
A full refund will be issued minus a $5 cancellation fee if you notify the Education Department at least one month prior to your program. There is a $5 cancellation fee per program.
Between ten business days and one month Prior to Program:
You are entitled to a 50% program fee refund if you notify the Education Department between 10 business days and one month prior to your program date.
Less than ten business days Prior to Program:
There is no refund for groups that cancel with less than two weeks' notice.
Please note: In the event that your school and/or the Zoo is closed the day of your program due to weather, we will try to reschedule your program or issue a full refund.
Program transfers may be approved based on our ability to reschedule you. Transfers are determined by resource (space, instructor, etc.) availability. A $5 transfer fee will be charged per program for the first transfer date. A $10 transfer fee will be charged for additional transfers. Transfer fees must be paid with credit card at the time requested. We cannot accommodate same day or next day transfers.