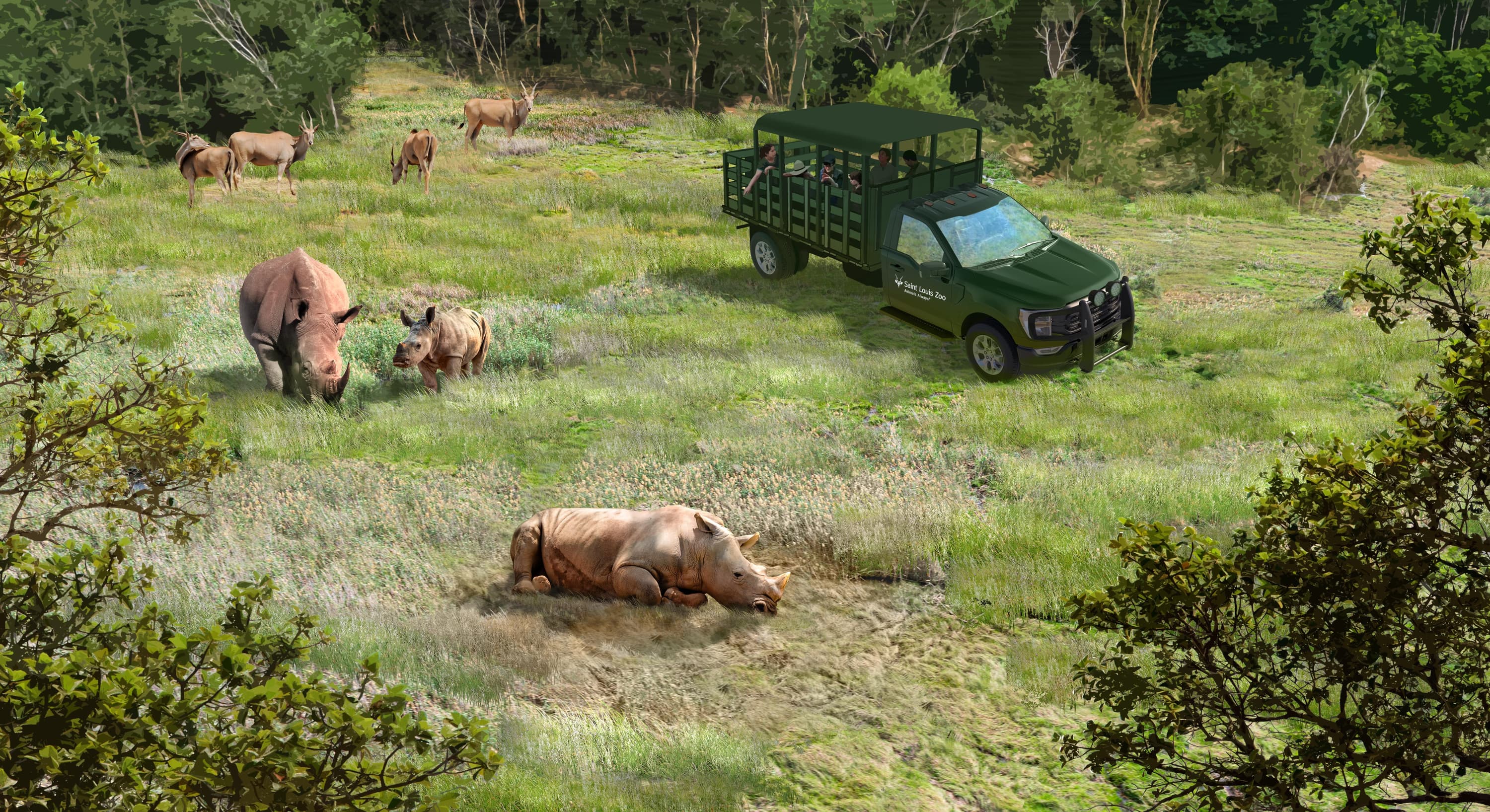 WildCare Park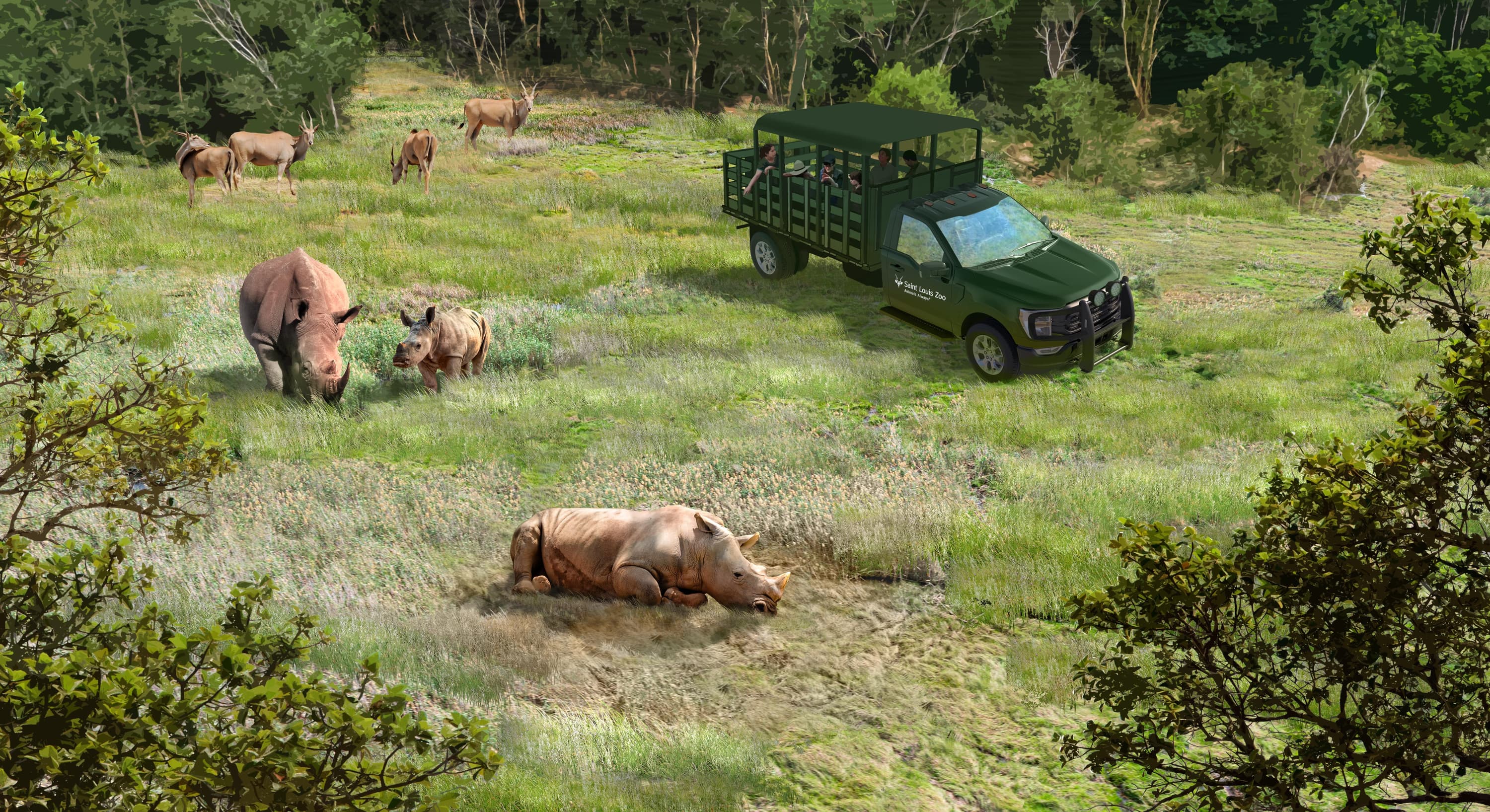 Update and Plans Announced

In July 2022, several updates were announced:
Development of WildCare Park estimated to cost $230 million
Building demolitions nearing completion and perimeter fence installation is underway
Animals to begin arriving in 2023 for pilot pasture
Targeting public opening for 2027
Name Unveiled

In December 2020, the Saint Louis Zoo provided several updates on its north St. Louis County campus. First, the Zoo unveiled the name for its 425-acre north St. Louis County property – Saint Louis Zoo WildCare Park. Next, the Zoo announced a leadership gift from longtime Zoo supporters, the Kent family, to name the Kent Family Conservation and Animal Science Center, which will be located at the Saint Louis Zoo WildCare Park. In addition, the Zoo shared information on biodiversity studies underway in and around the Saint Louis Zoo WildCare Park.
Saint Louis Zoo WildCare Park
"We decided on Saint Louis Zoo WildCare Park as it hits on three aspects that are key to the use of this campus: wildlife, conservation and public experience," said Jeffrey Bonner, Ph.D., Dana Brown President and CEO, Saint Louis Zoo. "With the two campuses, we will continue to operate under one mission that essentially has been unchanged for over a century: 'To conserve animals and their habitats through animal management, research, recreation, and educational programs that encourage the support and enrich the experience of the public.'"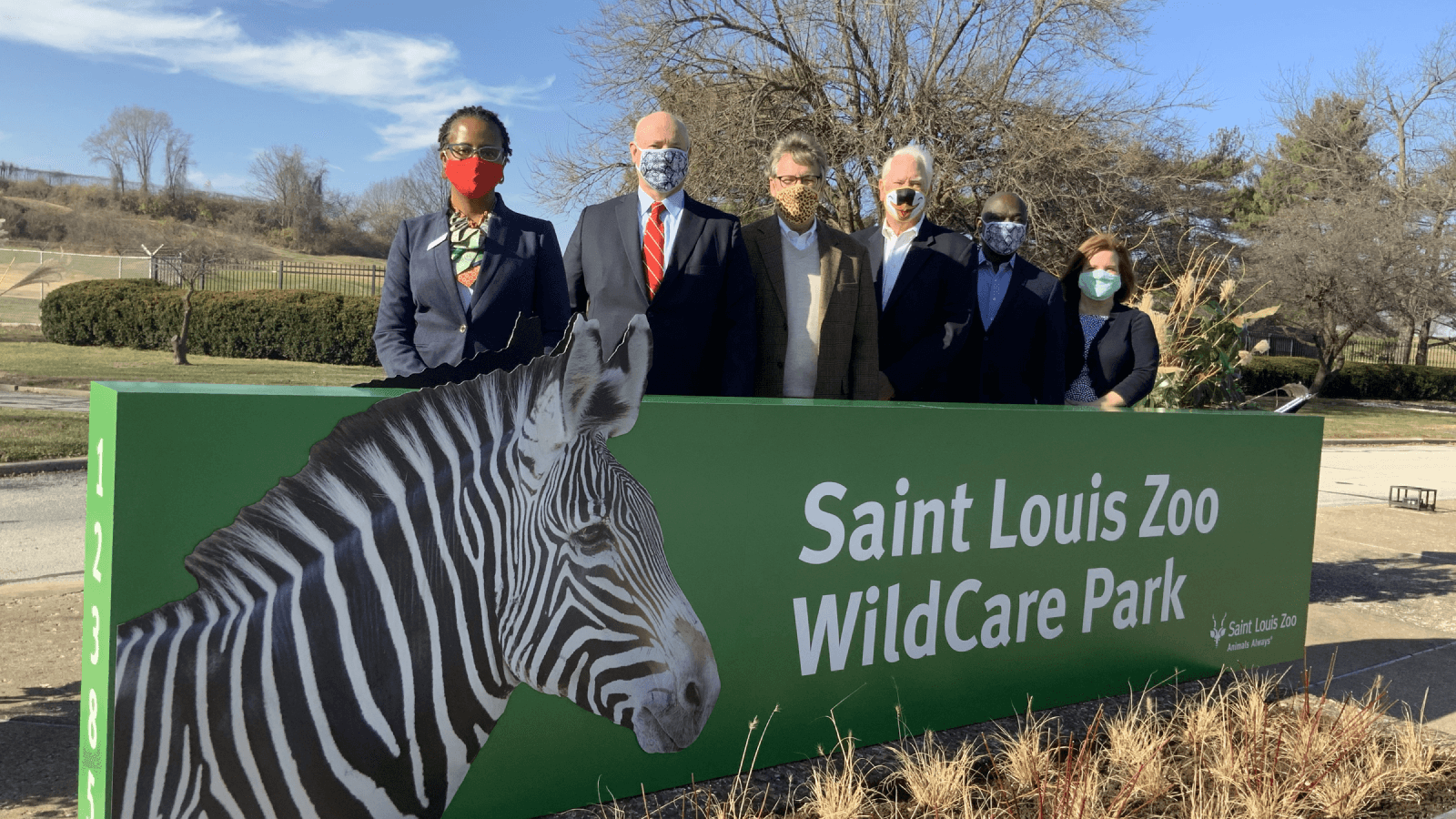 The word "WildCare" is not new for the Saint Louis Zoo. Launched in 2004, the Saint Louis Zoo WildCare Institute centralized the Zoo's wildlife efforts. The Zoo's field conservation efforts have grown to include 17 conservation centers worldwide, all of which are founded on wildlife management and recovery, conservation science with applied conservation action, and working with communities. Five of these centers focus on wildlife conservation efforts in Missouri.
The word "Park" helps describe the guest experience that the public can expect when the Saint Louis Zoo WildCare Park opens – an abundance of opportunities to connect with nature through outdoor activities, attractions and wilderness adventures.
"While the COVID-19 pandemic may have slowed down some of the planning and initial efforts we had hoped would be done by now, we estimate a public opening as early as 2026 for the Saint Louis Zoo WildCare Park," said Dr. Bonner. "There's a lot of work ahead of us and we want to do this right."
The Zoo has conducted public experience studies and surveys with tourists and area residents, and will continue to seek input as it finalizes the public experiences at the new campus. The Zoo also will work with necessary authorities to evaluate property zoning, traffic studies, perimeter fencing and a potential pilot pasture in the near future.
Saint Louis Zoo WildCare Park features two completely different, but highly synergistic components. The first is what the public will experience, a unique outdoor adventure that sends guests on a safari through herds of animals roaming wild over gently rolling grassy meadows and through native forests.
"Imagine, if you can, coming upon a herd of giraffe walking across the grasslands or rhinos surrounding your vehicle. Visitors might find themselves silently kayaking up to unwary zebra or disembarking the safari truck for a truly close-up experience," said Dr. Bonner.
More than a safari, visitors also will explore the forests on trails and, for the more adventurous, high up in the forest canopy.
"Visitors can enjoy a massive indoor/outdoor experience that combines the best that zoos, science centers and natural history museums have to offer – connecting people and animals in a way that has never been done before," said Dr. Bonner.
Those who want the ultimate outdoor adventure will be able to spend the night camping, or even "glamping," which is glamorous or luxurious camping at its finest.
Kent Family Conservation and Animal Science Center
The second component to the Saint Louis Zoo WildCare Park is the Kent Family Conservation and Animal Science Center, made possible by the generosity of the Kent family.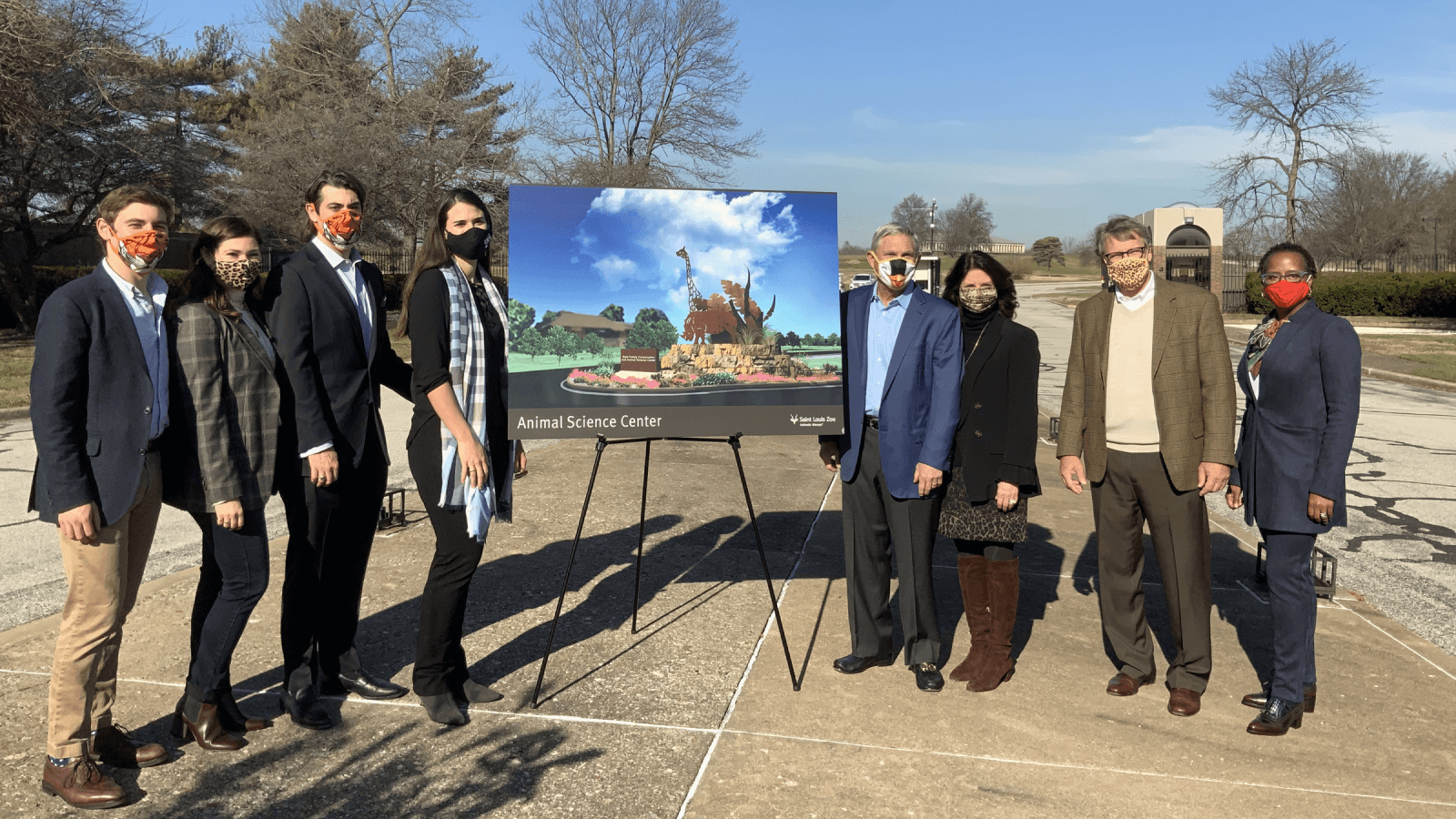 "The Saint Louis Zoo is more than just one of the finest zoos in the world," said Jerry Kent. "It is one of the world leaders in conservation. My family, including my wife Judy and our children Matt and Rachel, and Matt's wife Dr. Ana Kent, are proud to enable St. Louis' leading tourist attraction to expand their impact by basing this important work in facilities located in north St. Louis County."
The Kent Family Conservation and Animal Science Center is where conservationists will work to sustain populations of endangered species, conduct research and engage in applied conservation programs. It is key to the Zoo's work to advance wildlife conservation efforts.
"Together, the public experience and the Kent Family Conservation and Animal Science Center will merge applied science with intriguing dynamic visitor interactions – both are cutting-edge and unique," said Winthrop B. Reed, III, Chairman, St. Louis Zoological Park Subdistrict Commission. "We believe this is the first facility of its kind in the world and will doubtless be a game-changer for endangered species as well as for north St. Louis County and the region."

"Today, the Zoo is thrilled to announce a leadership gift that will bring our dream of a Conservation and Animal Science Center one step closer to reality," said Reed. "Longtime Zoo supporters, the Kent family, will place their name on a significant part of the new campus – the Kent Family Conservation and Animal Science Center."

Jerry Kent is a serial entrepreneur and founder of several area businesses, including Charter Communications, Tierpoint, Staylock Storage and Cequel III. He and his family are very involved in the region's charitable organizations and they financially support many causes through the Kent Family Foundation.

"We are so grateful for the generosity of the Kent family," said John Sondag, President, Saint Louis Zoo Association. "With the Kent family's support, the Zoo will be able to build state-of-the-art habitats and spaces dedicated to conservation breeding of some of the world's most endangered species."

The Kent Family Conservation and Animal Science Center will be a dedicated facility to sustain endangered and threatened species. For many such species, the Zoo is their last hope. The Zoo has a long history of bringing species back from the brink of extinction, and having a facility dedicated to assuring their survival, both in human care and in the wild, is critically important.
Native Species Biodiversity Studies
In addition to conservation programs in Missouri and around the world, the Zoo also will study the native animals and plants that live in and around the property. The first step in those efforts are biodiversity studies.
The overall goal of the biodiversity studies is to develop a comprehensive list and understanding of the animal and plant species that utilize the Saint Louis Zoo WildCare Park. The Zoo is mapping the biological and environmental health of the site, including the presence or absence of native wildlife, invasive species and diseases with a potential threat to Zoo animals, and an understanding of the types and quality of the habitats at the site.
"The knowledge gained from these biodiversity surveys is essential to make the best decisions about future property use including Zoo animal management decisions, property management, educational program development and property design and use," said Jo-Elle Mogerman, Ph.D., Director, Saint Louis Zoo WildCare Park. "For example, we will learn if there are concerns about the types of plants there now and whether any native wildlife corridors run through the land."
Currently, there are eight areas of study: bats, birds, coyotes and foxes, invertebrates/pollinators, plants, reptiles, amphibians, and water quality of lakes and streams. Potential projects for community involvement include FrogWatch and City Nature Challenge trainings, invasive plant removal, litter cleanups, bird walks and other nature experiences.
Related Announcement
April 17, 2019:  Saint Louis Zoo Names Two Proven Leaders to Direct Zoo and New North Campus Efforts
Artist Renderings