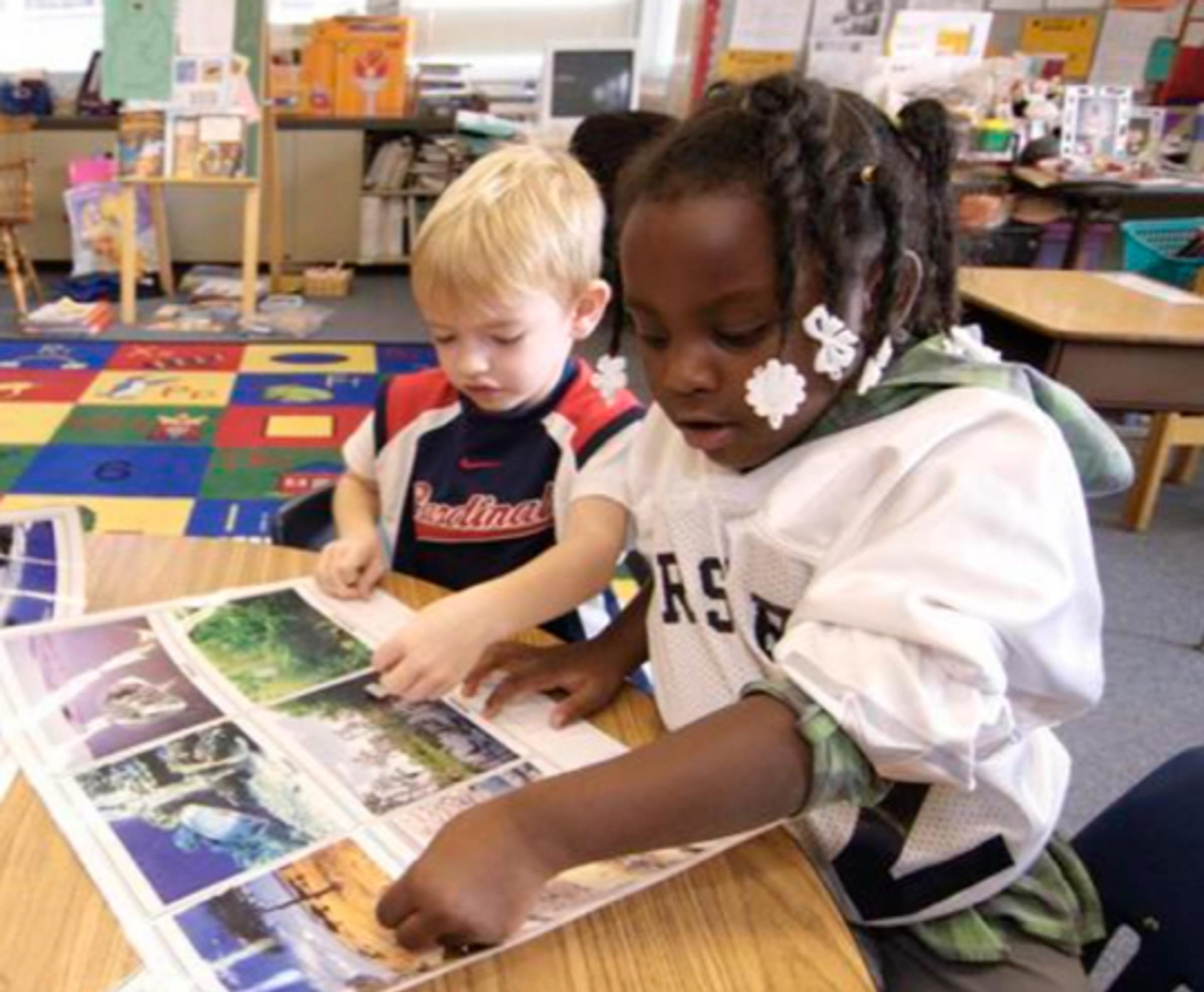 Library and Teacher Resources
The Library and Teacher Resource Center houses a diverse array of materials for use in the classroom. Teachers in the Saint Louis metropolitan area have access to DVDs, curriculum guides, activity books and kits. All materials are available for loan free of charge.
Zoocases
Enhance your classroom experience with Zoocases, our hands-on loan kits for teachers in the St. Louis metropolitan area. Zoocases are filled with a host of engaging objects, information and fun activities.
Your students will dive into the world of ocean life by learning about adaptations, classification, life cycles, and what the Saint Louis Zoo does to promote conservation. This Zoocase includes lesson plans and materials for a variety of exciting, hands-on learning experiences, as well as books, biofacts and other materials to help students learn all about our underwater friends.
Learn about how animals live in the extreme conditions of the North and South Poles and how we can help protect them and their special habitats. This kit includes differentiated lesson plans which include role-playing, self-guided exploration, STEM activities, and more with a focus on penguins and polar bears.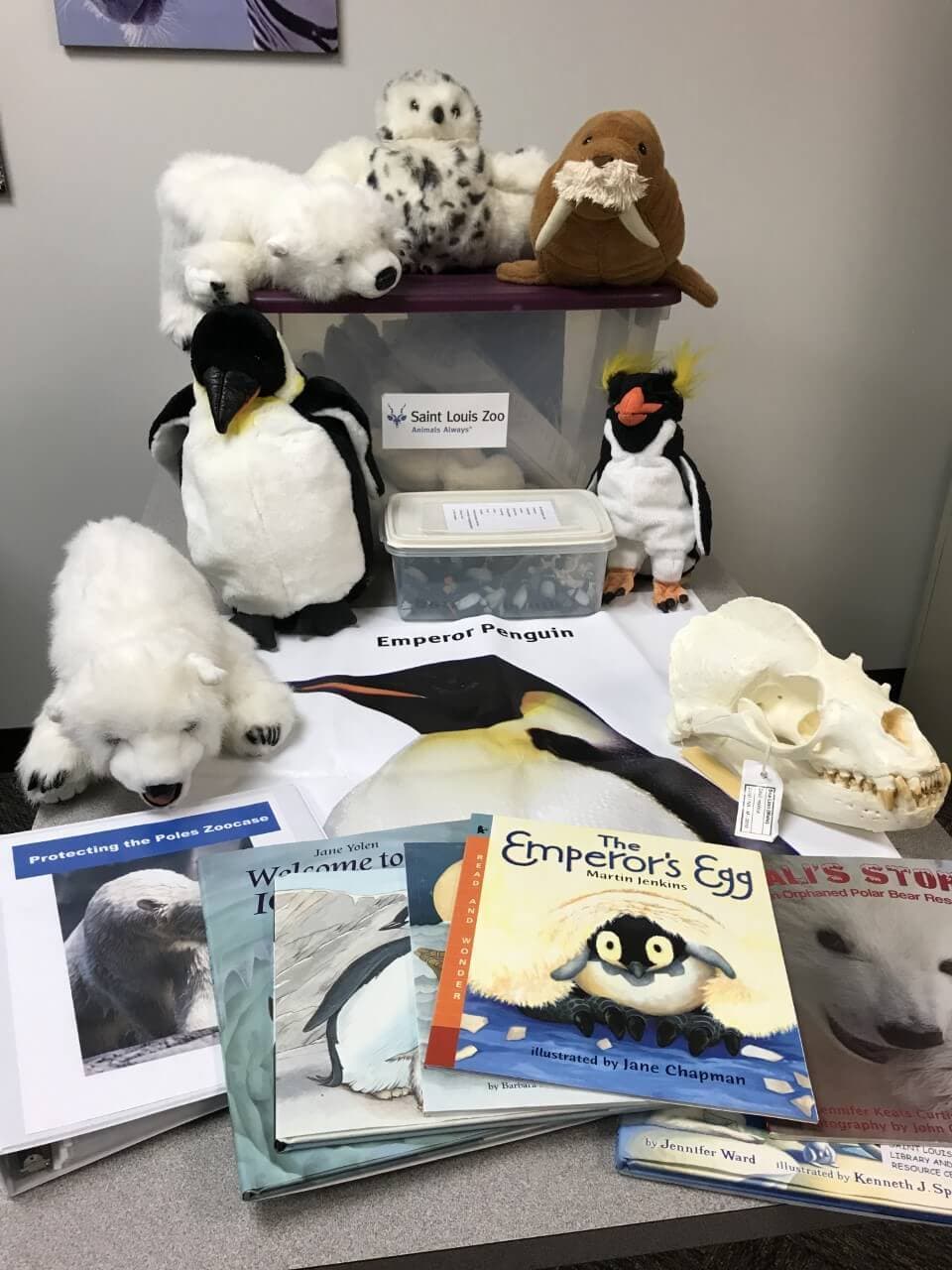 What makes rainforests so remarkable? The diversity of wildlife that calls the rainforest home! This Zoocase will help learners explore the animals, plants, and unique features of this biome, while learning how they can help conserve and protect these majestic forests from afar!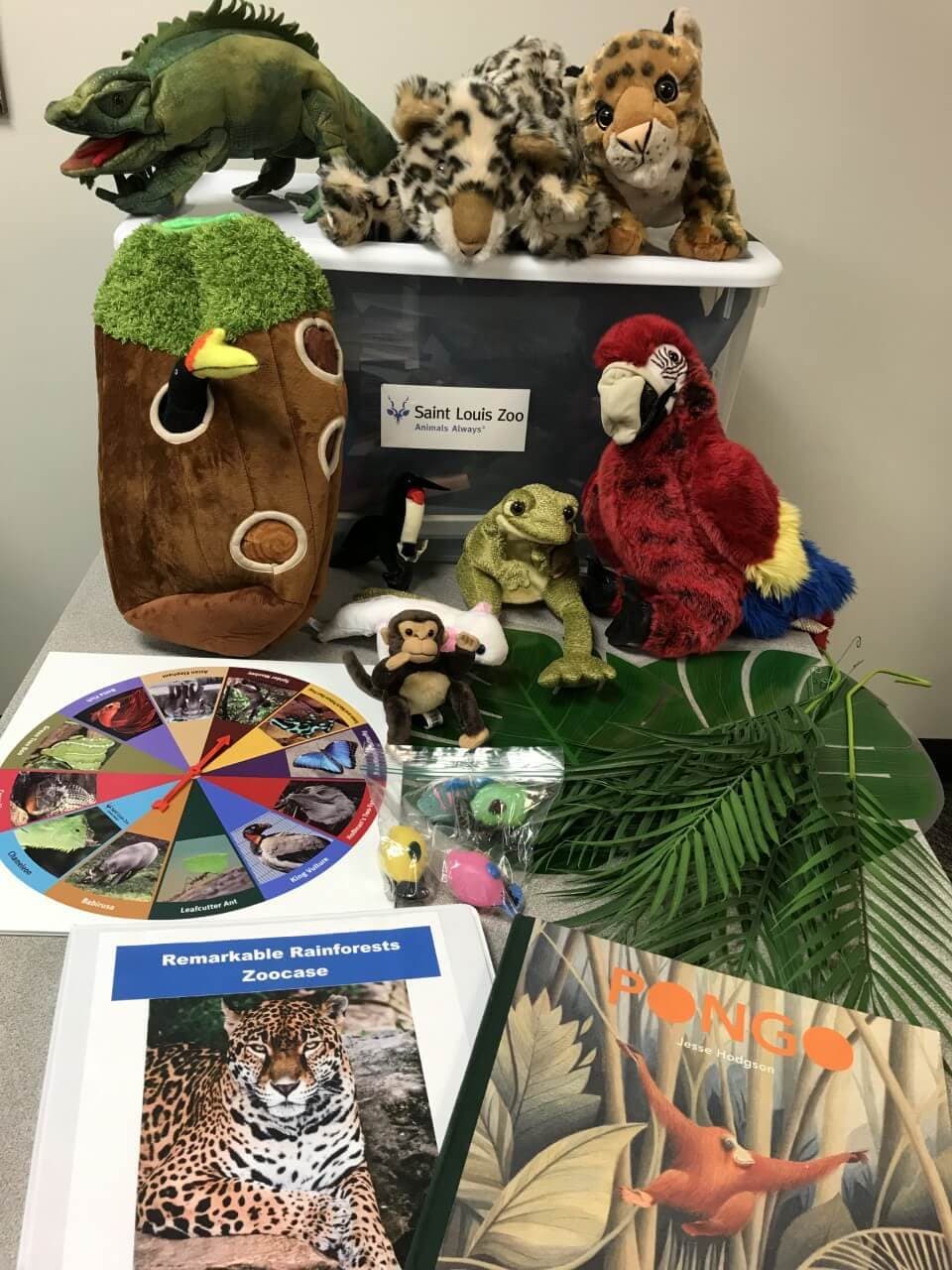 Discover the world of amphibians through classification, life cycles and adaptations with this Zoocase. Through hands-on activities, books and more, students will learn about how amazing our slimy friends are and what the Saint Louis Zoo is doing to help them.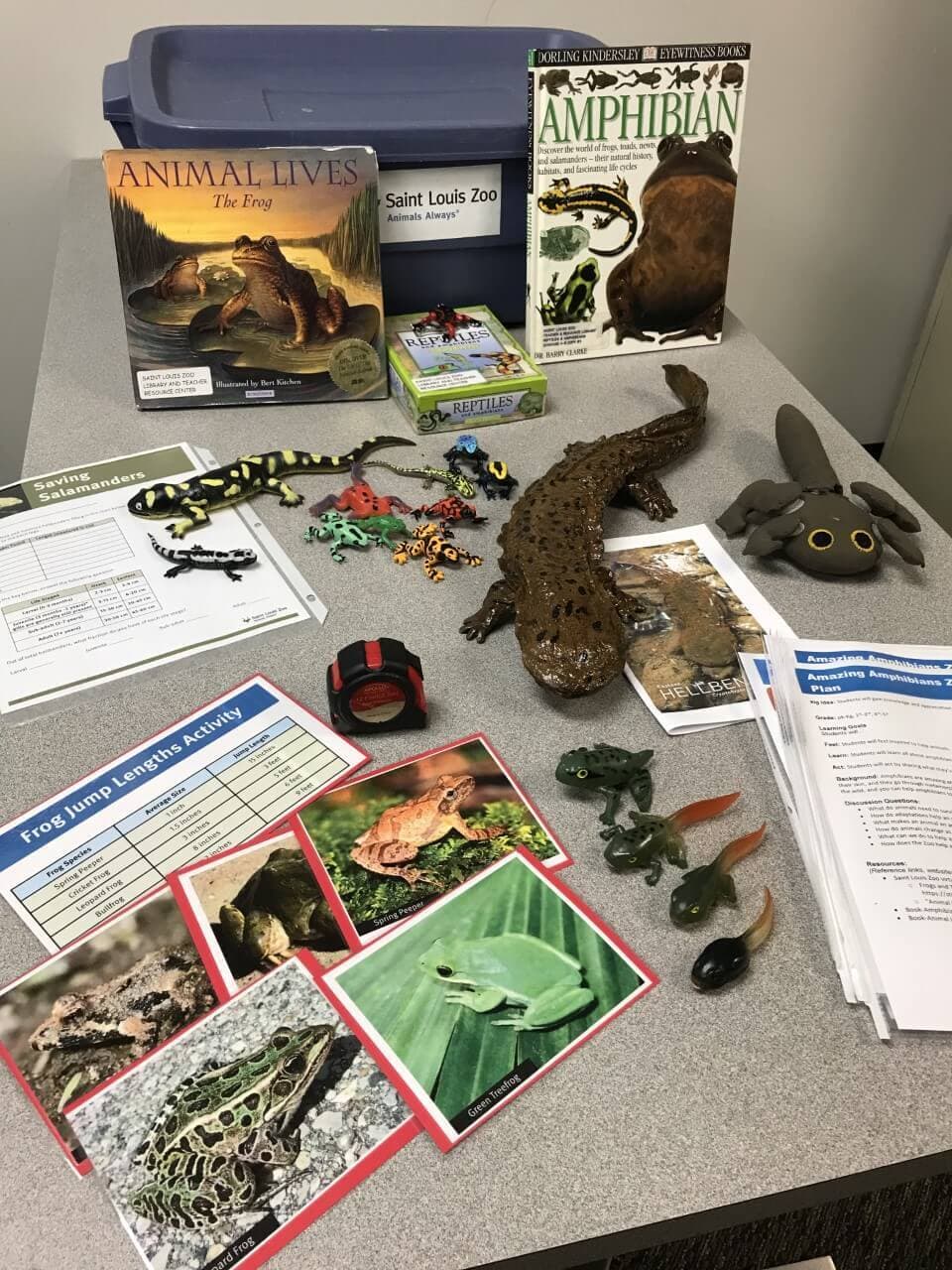 Your students will become scientists to discover the world of reptiles while learning about adaptations, classification and conservation work being done by the Saint Louis Zoo. This Zoocase contains biofacts, hands-on activities, books and more. Students will gain empathy and appreciation for our scaly friends.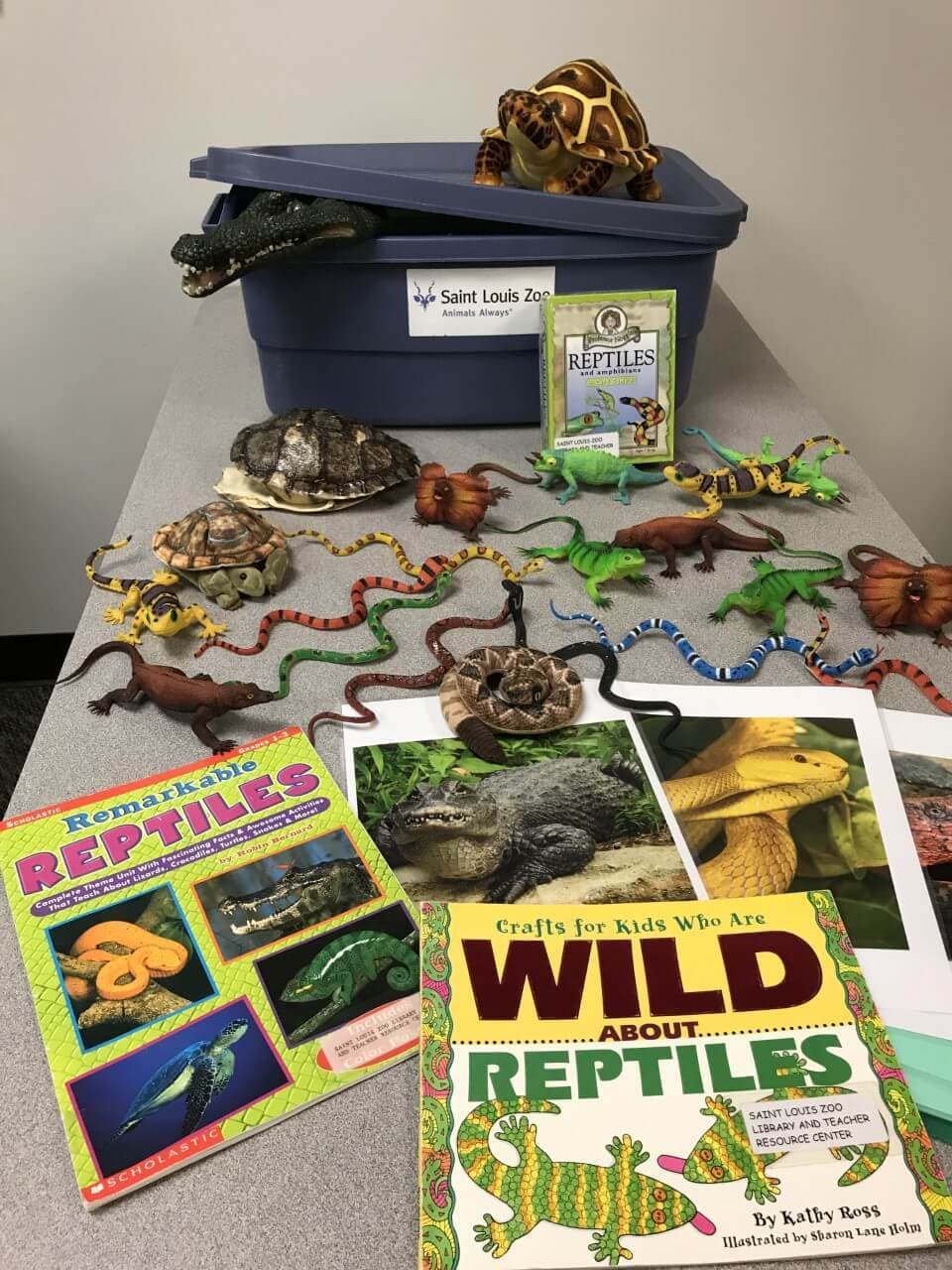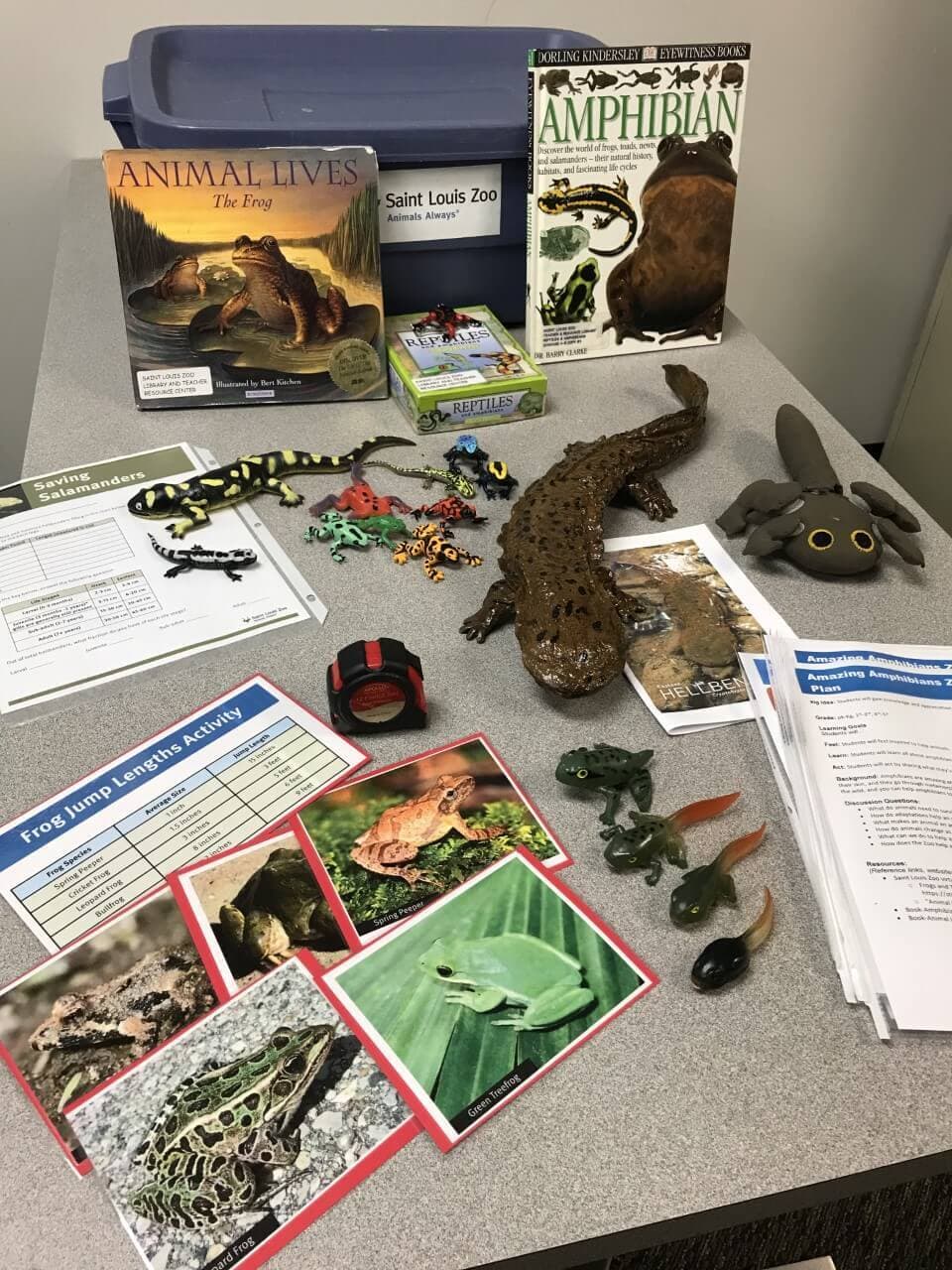 Reserve a Zoocase
Zoo Education staff can deliver/pickup Zoocases to schools and organizations in St Louis City and County for a $25 fee. Title 1 schools can receive free delivery. We cannot deliver to private residences. No more than two Zoocases may be delivered to the same address on one day. Deliveries are available Monday through Friday from 8 a.m. to 4 p.m. The delivery fee must be paid online with a credit card.
Zoocases are available for two-week loan.


Make a Zoocase reservation
Reference Volumes

In addition to our loan materials, the Zoo Library and Teacher Resource Center houses a collection of over 5,000 books and periodicals on conservation and zoology. View our collection through the Zoo's online library catalog. Please call (314) 646-4555 to make an appointment.
Reference Service

Zoo Library staff may be able to assist with questions about animals. Inquiries may be sent to animalquestions@stlzoo.org.
Digital and Online Resources
The Saint Louis Zoo can provide a wide variety of content-rich offerings in life science and conservation, as well as in science teaching methods, to help you effectively meet the needs of your students. Customized professional development programs are available to teachers, districts and schools throughout the St. Louis area. Designed to address your district's science curriculum and Missouri Grade and Course Level Expectations, these programs include topics such as living systems, ecology, conservation, and scientific inquiry.

View videos and access other digital resources. One time, free registration required.

Visit our virtual conservation learning page for digital resources and virtual programs.

School Visits
The school/group registration form is no longer required at this time.
Students may bring sack lunches to the Zoo; however, we cannot store lunches. Rental lockers are available for the storage of lunches or any other items during your group visit. If you do not want to rent a locker, we suggest bringing a wagon to carry your items with you or leaving your items on the bus. The Zoo does not hold personal items and is not responsible for any items left unattended. Unattended items are left at your own risk and may be removed by Zoo Security.
You are welcome to enjoy your lunch at any of our outdoor tables or benches, except those on the terrace at the Cafe Kudu and at Lakeside Cafe.
See the picnic map for places to enjoy your lunch.
Animal adoptions provide fun ways to learn about animals and show your pride for our Zoo. They also offer great benefits, plus fun items for your classroom or scout troop.

Professional Development Opportunities/Workshops
Ladybugs, Leopards, and Literacy

From the smallest backyard residents to the coolest cats in the wild, animals are a great way to get kids interested in literacy and science! Learn ways to integrate animals and nature into all aspects of your curriculum.
The Young Scientist
The smallest children can have the biggest questions. How can you help bring out their inner scientist? Learn how to harness their natural curiosity while introducing science process skills, citizen science, critical thinking and more.
Outdoor Explorations
Bring the outdoors in and the classroom outside! Research tells us that when children spend time in nature, they have better attention, are more creative and spend more time collaborating. We will share easy ways to connect to nature in and out of the classroom, no matter where your school is.
STEAM
Kids love to explore the world around them! Learn easy, hands-on Science, Technology, Engineering, Art, and Math experiences that naturally fit into an early childhood classroom.
Seasonal Animal Explorations
From changes in nature to animal migration, every season brings something new to explore! Travel through a year of hands-on activities and explorations as we learn about animals through the seasons.
Contact
Group programs are available for three to six hours, at the Zoo or at your site. All programs are a mix of hands-on activities and discussion. The following programs are available with a minimum of four weeks' notice. Prices start at $450.
Contact Laura Seger at Seger@stlzoo.org for questions and to book a program.
Throughout the school year, the Saint Louis Zoo Education Department can provide tailor-made professional development opportunities to enhance your science curriculum and help you meet your students' needs. Perhaps you are using a textbook and wish to find additional hands-on or inquiry-based activities, or you need supplemental information to properly address Missouri Grade Level Expectations. Maybe you have a kit-based curriculum and need professional development on kit use. The Zoo staff will work with your school or district to provide materials, programs, and training to meet your specific needs.
The Zoo Education Department staff is experienced in providing programs that blend content, methods, and student activities into cross-curricular activities that connect literacy, math, art and social sciences to science topics. Each workshop is designed to improve teacher confidence and raise comfort levels. Groups requesting workshops need to provide detailed information about their wishes in order to properly focus the professional development. All teacher workshops address applicable Missouri Grade Level Expectations.
General topics include:
Life Sciences
Biology
Adaptations
Animal Behavior
Animal Groups (e.g. birds, insects, etc.)
Classification / Taxonomy
Evolution and Natural Selection
Life Cycles
Ecology
Biodiversity
Biomes, Ecosystems, and Communities
Food Chains and Webs
Habitat and Niche
Organisms and Populations
Conservation
Teaching Strategies
Cross - curricular Applications
Inquiry - based Science
Other topics can be requested.
Frameworks Addressed
III. Living Systems
IV. Ecology
VII. Scientific Inquiry
Contact
Group programs are available for three to six hours, at the Zoo or at your site. All programs are a mix of hands-on activities and discussion. The following programs are available with a minimum of four weeks' notice. Prices start at $450.
Contact Laura Seger at Seger@stlzoo.org for questions and to book a program.