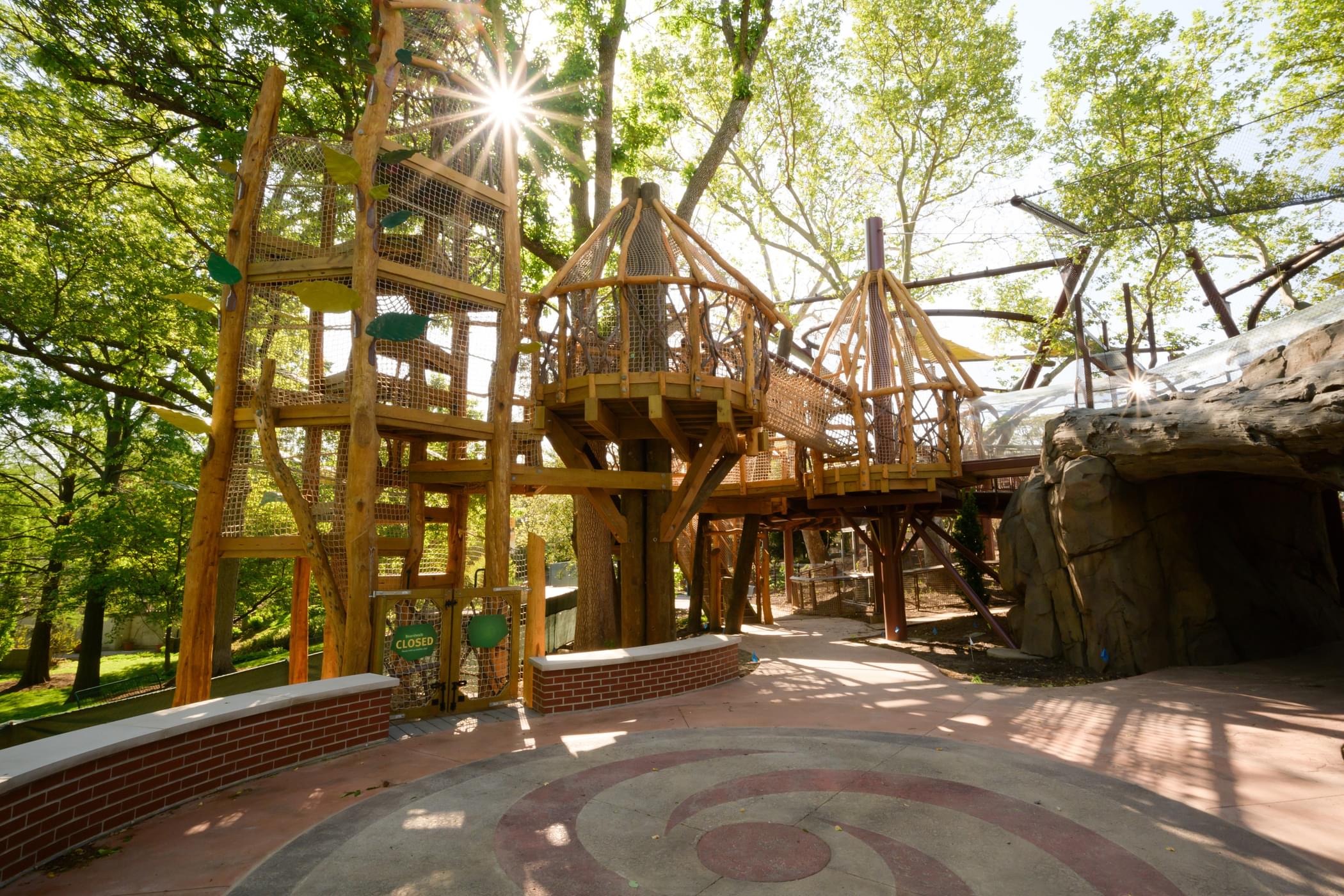 Historic Hill
Michael and Quirsis Riney Primate Canopy Trails
Primate Canopy Trails is a 35,000-square-foot outdoor expansion connected to the Primate House that opened in July 2021. In warm and comfortable weather, the primates will often be seen in this outdoor space. If it is cold or rainy, they may be next door in the Primate House.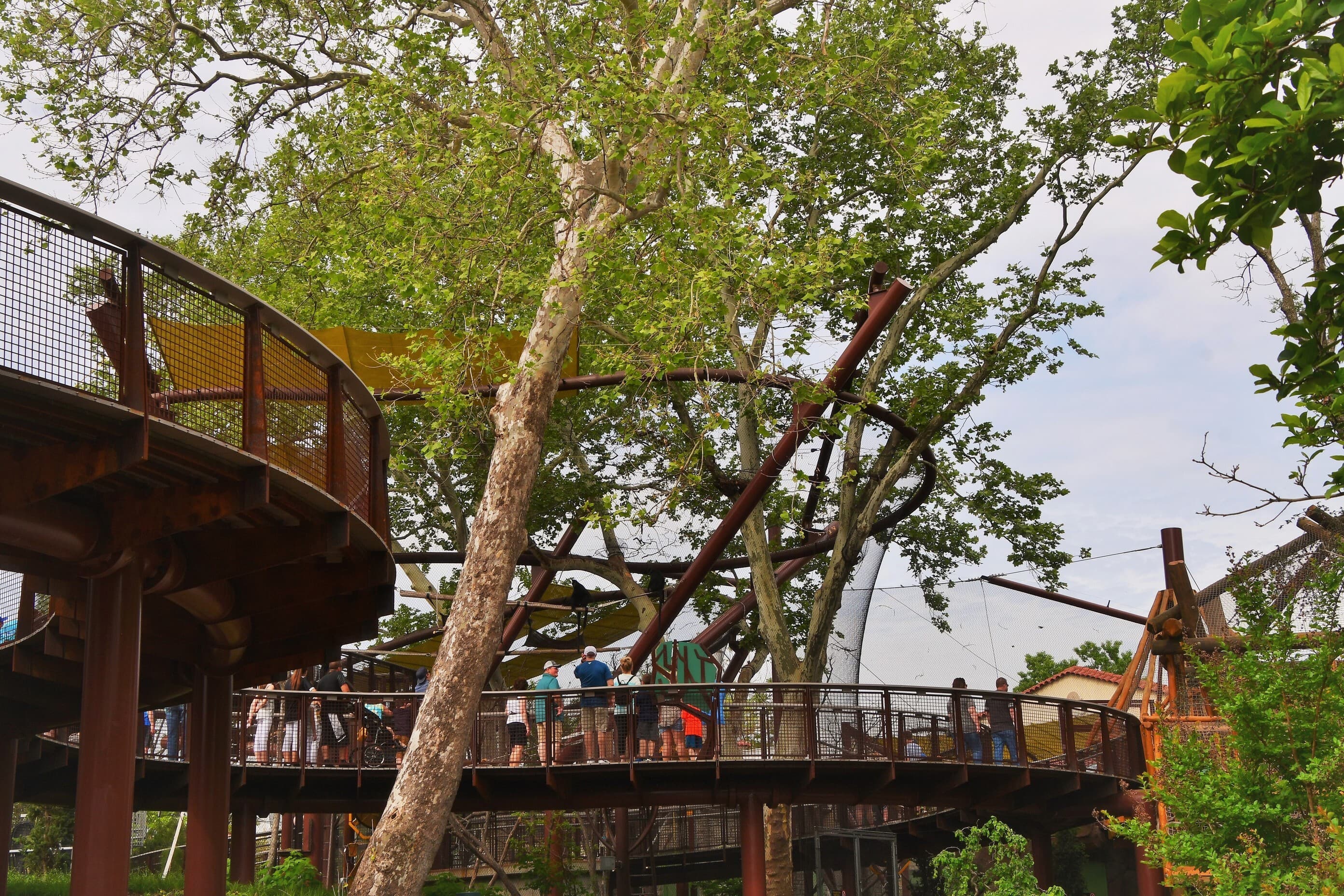 Exploring the Canopy
The $13 million exhibit consists of eight new outdoor homes for monkeys and lemurs, along with a new Primate Care Center offering indoor shelter and sleeping areas. The first-of-its-kind primate habitat and guest experience includes climbing structures that allow guests to explore the forest canopy next to the animals, while learning through play and exploration about conservation challenges primates are facing in the wild — and discovering solutions to help.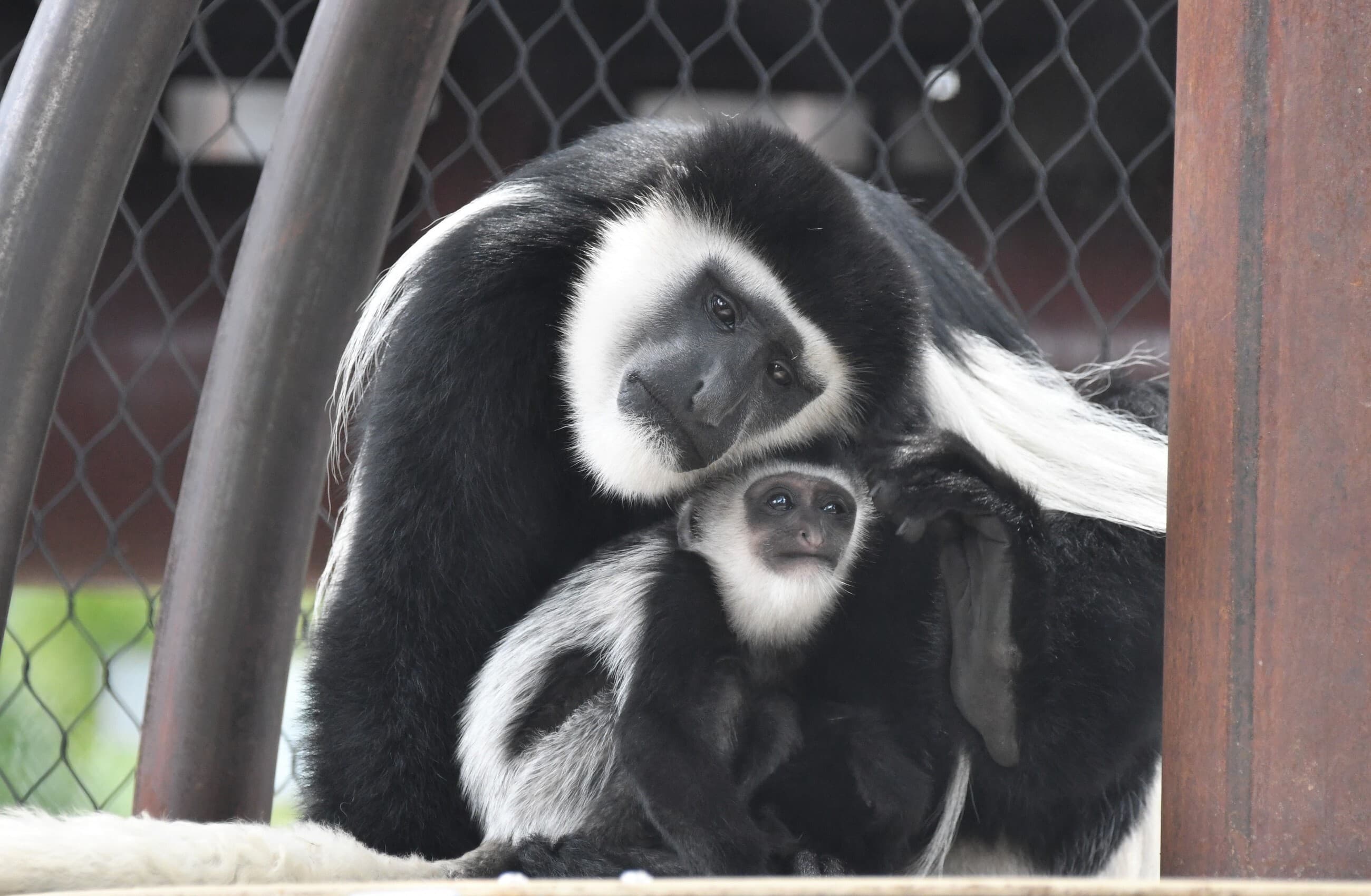 Outdoor Health
The new exhibit allows the Zoo to improve animal care, health and well-being of primates by providing access to enriching outdoor habitats, sunlight and fresh air. The 1925 Primate House, which was renovated in 1977 and will continue to be used, had few outdoor habitats available for use by only some of the species over the years. Many of the primates living at the Primate House have never had access to the outdoors until now.
Animals in Primate Canopy Trails
Some animals may choose to be in Primate Canopy Trails or the Primate House.
Climbing Structure

The crawl space and the rope bridge are just a few areas of fun for guests of all ages.

Primate Panorama

Surrounded by glass on all sides, guests can see primates climbing, playing and foraging in this area.

Dana Brown Conservation Canopy

Begin the journey up into the canopy on the boardwalk.

Rudolph L. and Mary Frances Wise Sycamore Sanctuary

One of two habitats that incorporated existing sycamores.

Majestic Forest

Guests are now at eye-level with the animals and can see them climb and enjoy the large blue ash tree in this habitat.


Primate Care Center

This space, located in the middle of the exhibit, offers housing for up to four primate groups, a kitchen and a workspace for keepers.

Bodega

In the bodega, guests will learn about sustainable palm oil and have the opportunity to engage with a Zoo interpreter.

Edible Forest

The browse garden allows keepers to gather food for the animals to eat.
Special Details
Find the interpretive signs all around the habitat to learn more about why primates need a healthy, continuous canopy.
Take a photo behind the selfie sustainable pledge interpretives!
Spot the leaf and primate prints along the path.
SAINT LOUIS ZOO ZONE
Historic Hill
Historic Hill is a lovely stroll through one of the oldest parts of the Saint Louis Zoo. From the 1904 World's Fair Flight Cage to the Spanish architectural flavor of the 1920s in the Bird House, Primate House and Herpetarium to the finishing touches of our thoroughly modern exhibits, this area of the Zoo has a unique ambiance and a nostalgic history that make it a great destination.
Explore Historic Hill