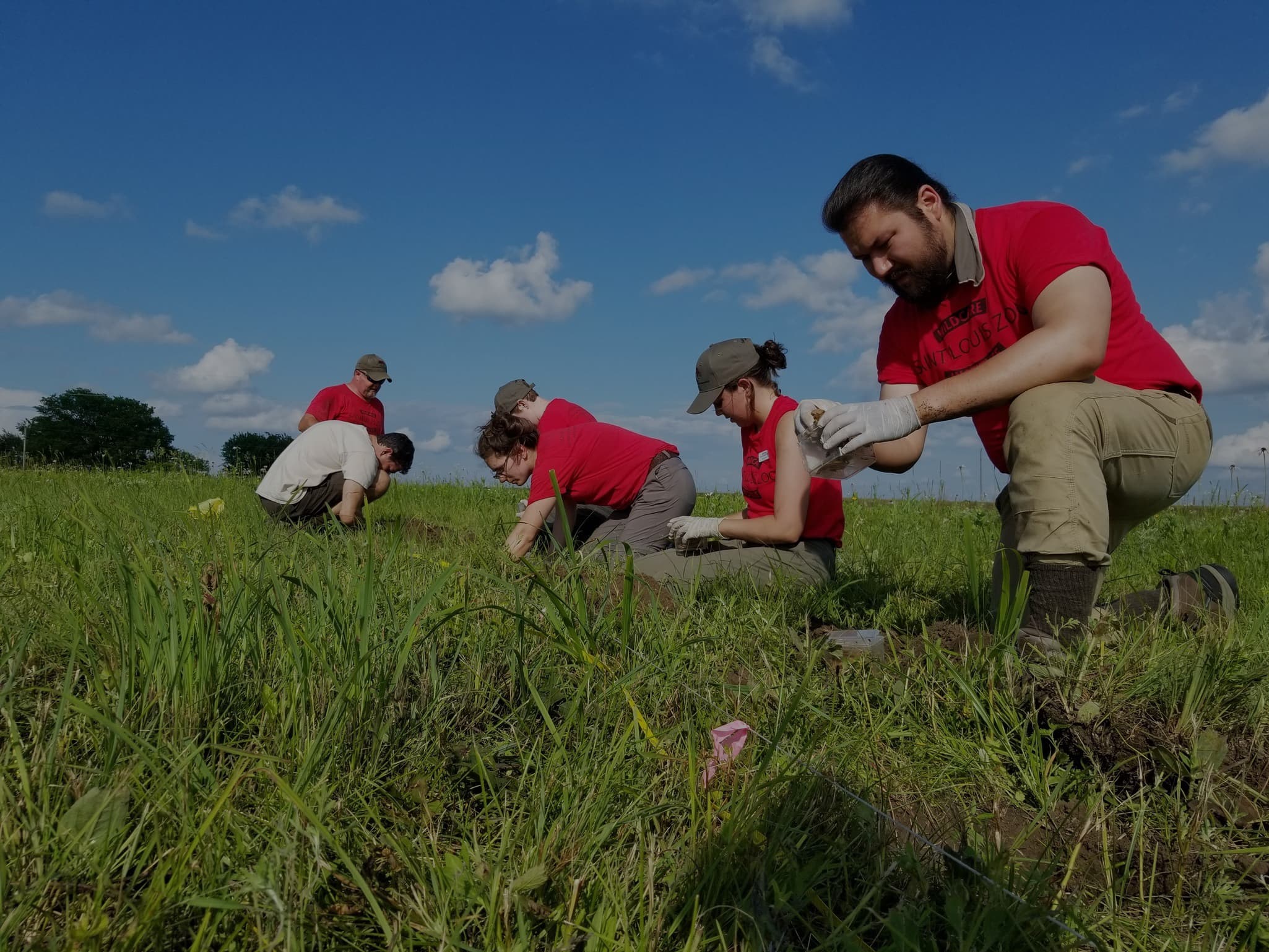 Center for American Burying Beetle Conservation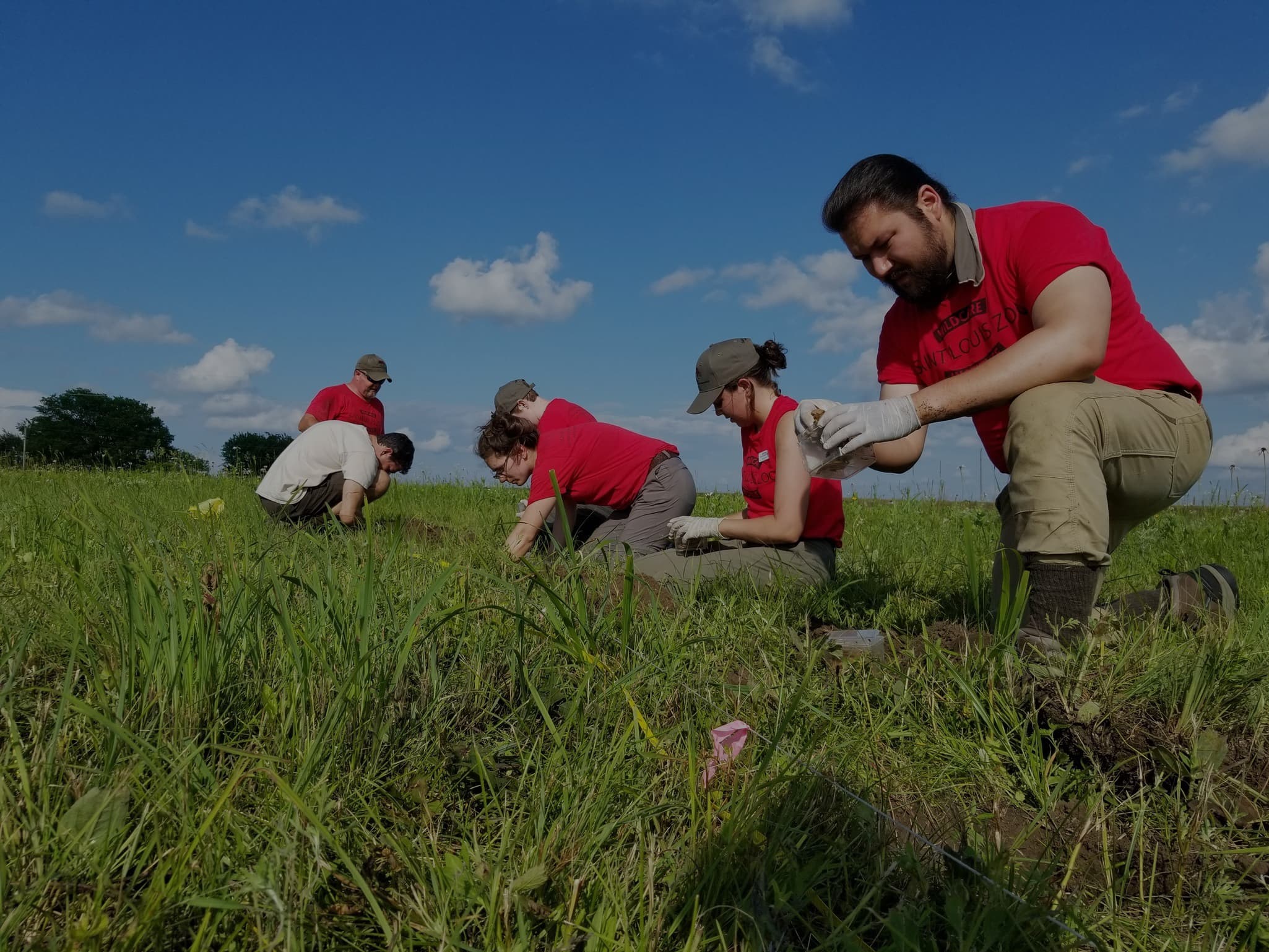 Background
The American burying beetle, a bright red-orange insect that embalms carrion (dead animals) with naturally secreted fluid, is a necessary part of our ecosystem. These insects are responsible for recycling decomposing components back into the environment. Unfortunately, the American burying beetle has been on decline for many years now. Reasons for this decline are unknown, but evidence points to habitat loss and fragmentation. Once found in 35 states, by 1989 the only known population was in Rhode Island. Since its listing as an endangered species, field surveys have discovered populations in six other states. Four of these states - Arkansas, Kansas, Nebraska and Oklahoma - share portions of their borders with Missouri. All four of these states have found beetles in habitats with similar soil to several of Missouri's natural divisions such as prairies, savannas and Mississippi lowlands. With adequate research on what has caused this animal to become lost, the species may hopefully thrive in Missouri once again.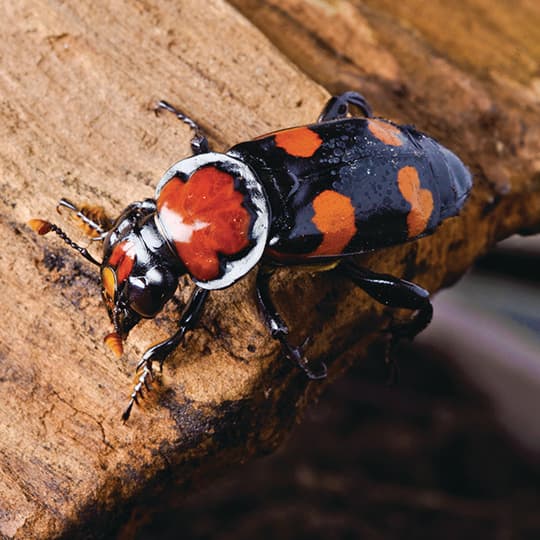 St. Louis Interest
The Saint Louis Zoo is committed to working with conservation organizations to assist with declining populations of native flora and fauna. The Center has successfully bred thousands of American burying beetles at the Saint Louis Zoo. Working with U.S. Fish & Wildlife Service, the Missouri Department of Conservation, and The Nature Conservancy, the Zoo is reintroducing beetles bred in human care to southwest Missouri.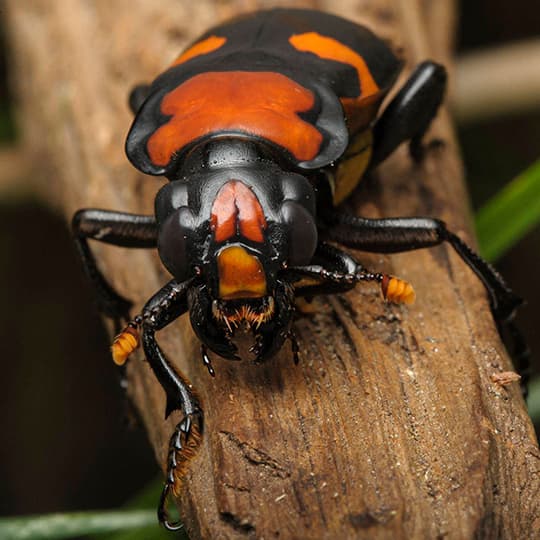 Goal
Since we have developed an active zoo-based breeding program, we are reintroducing, monitoring and studying populations of American burying beetles in Missouri. We have also supported reintroductions in Ohio. We also participate in a Species Survival Plan (managed by the Association of Zoos and Aquariums) with our population in human care and maintain the North American Regional Studbook for this species.
Conservation Science
Surveying for the endangered beetles has comprised the majority of our efforts for the past several years. Additionally, our contribution to reintroduction efforts, returning the beetle to parts of its former range, is the beginning of the recovery of this beautiful beetle.
On June 5, 2012, the Saint Louis Zoo WildCare Institute Center for American Burying Beetle Conservation, the U.S. Fish & Wildlife Service, the Missouri Department of Conservation, and The Nature Conservancy reintroduced zoo-bred American burying beetles for the first time ever in Missouri, in locations across four counties in southwest Missouri.
In 2016, 850 American burying beetles were found in traps placed by the Zoo during a recent census of beetles in southwest Missouri.
Genetic work organized by the Center for American Burying Beetle Conservation will provide a firm base for both reintroductions and breeding programs like the one at the Zoo.
Educational opportunities have more recently focused on a Zoo-based teen volunteer effort called Zoo ALIVE. Through this program, teens assist Zoo scientists with every aspect of the conservation program, both at the Zoo and in the field.