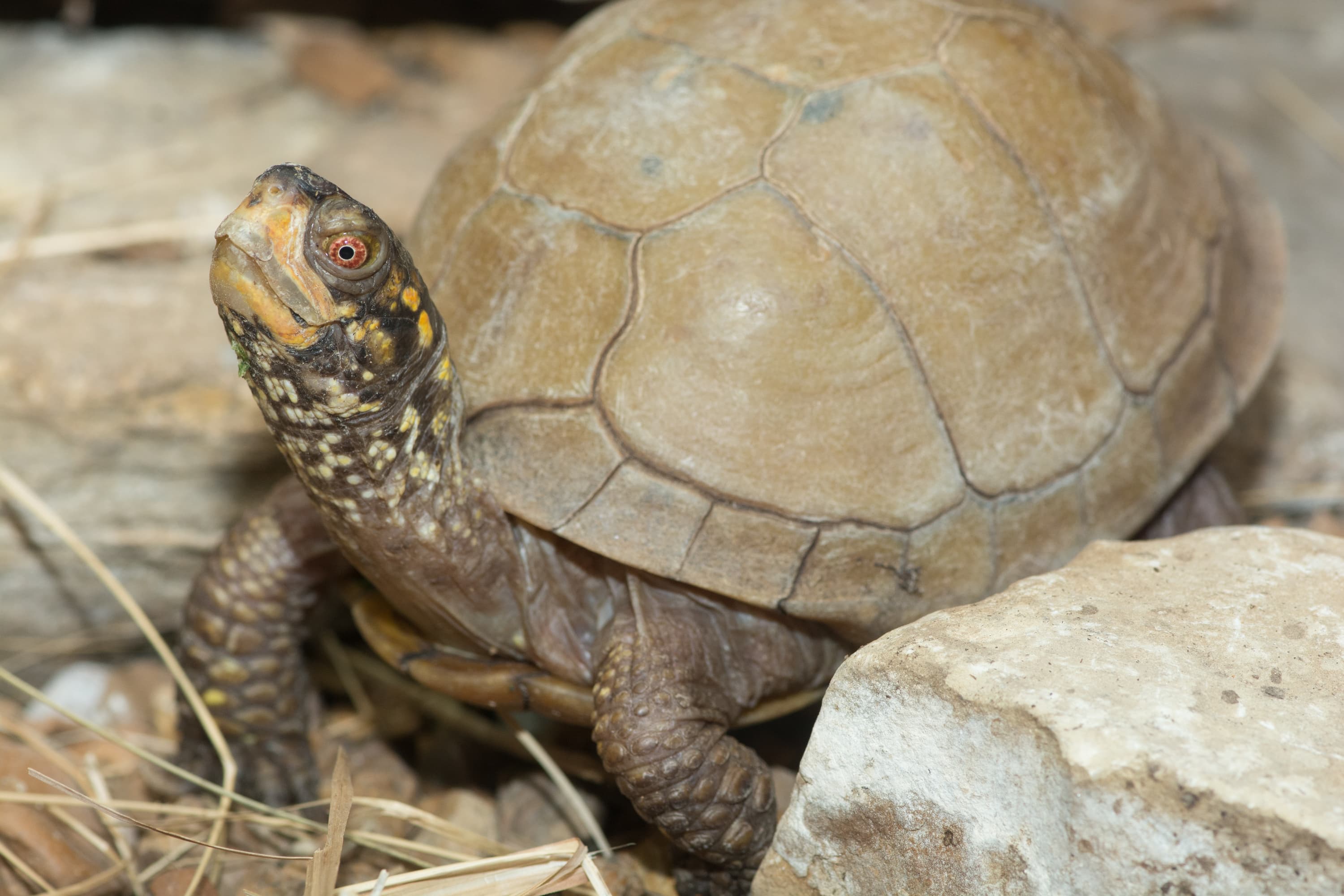 Implications of Range Disruption on Local Turtles
A recent research article published in the journal Urban Ecosystems shows that three-toed box turtles that live in uninterrupted habitats and those that live in urbanized environments have significant chances of encountering roads, often lethal obstacles for the animals. Box turtles that live in both the city park and country habitat have a high probability of encountering roads within their home ranges. This study researched three-toed box turtles in Forest Park and the Tyson Research Center in St. Louis, Missouri. Scientists conclude that uninterrupted forests patches offer the highest conservation potential for this species, although city parks also offer forest patch habitats.
"We were interested in how fragmentation by roads and small habitat patches influences home range size in box turtles across an urban gradient. We then wanted to understand how roads might impact both movements and potential mortality of highly mobile and highly sedentary box turtles across the range of box turtles in Missouri. We hoped to provide some guidance to mitigate the negative impacts of further urbanization and road construction on turtles and their habitats," said Dr. Stephen Blake, Assistant Professor at Saint Louis University.
This study was completed in a collaboration between Saint Louis University, Tyson Research Center (operated by Washington University), and the Saint Louis Zoo through the St. Louis Box Turtle Project, the precursor of the Forest Park Living Lab.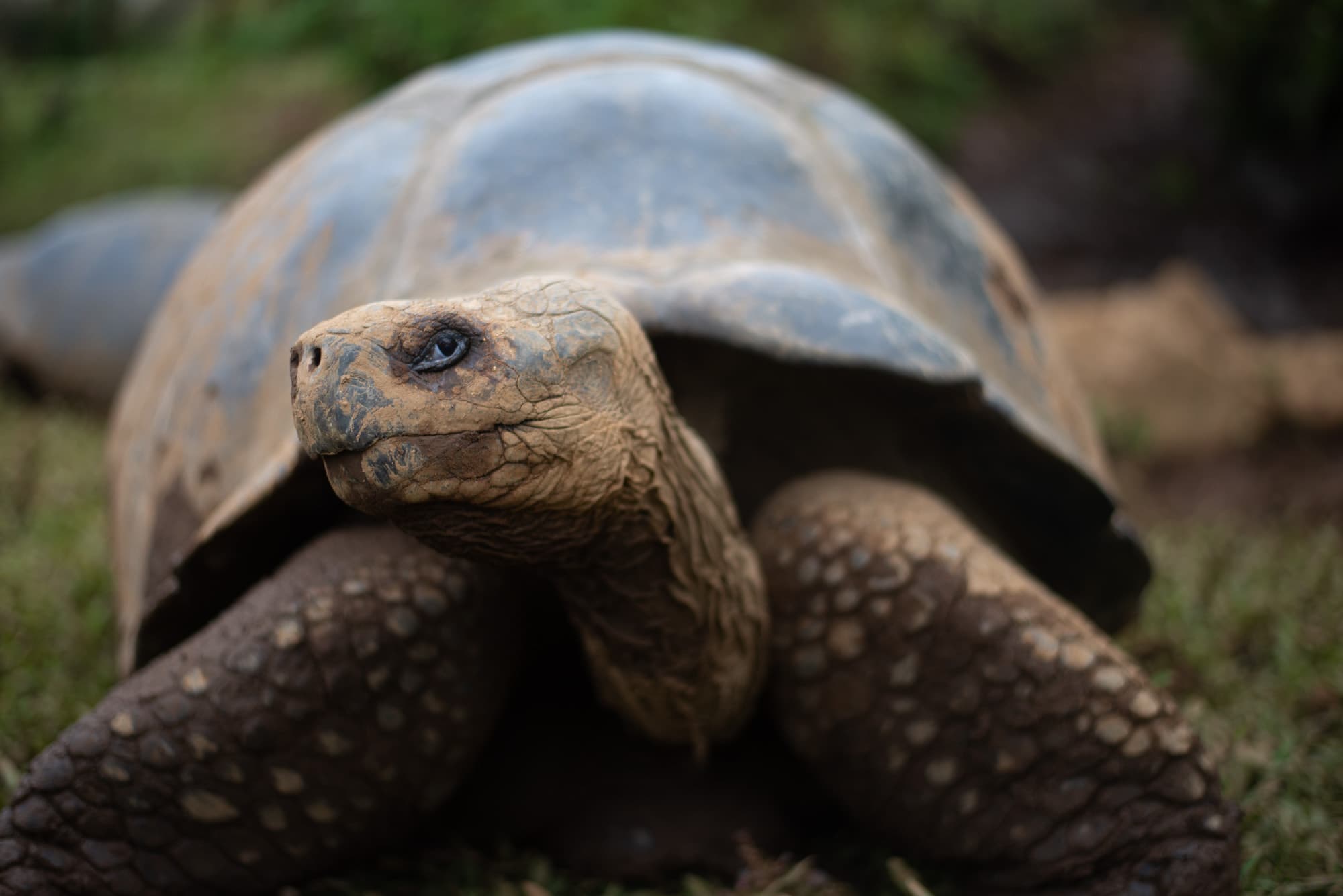 Temperature Effects on Galapagos Tortoise Hatchling Sex Ratios
A recent article published in the journal Ecology and Evolution shows that the warmer temperatures predicted for the Galapagos (which are associated with climate change) may increase the frequency of female Galapagos tortoises. The Zoo and its partners sought to provide data on free-living tortoises and focused on three separate nesting zones.
"We know that global temperatures are rising, and we know that human activity is causing some of this change. With this research, we can see how these changes may alter the future of this species. It's one part of broader studies to understand how humans may be harming free-living animals across the globe, even in subtle ways," said Dr. Sharon L. Deem, Director of the Saint Louis Zoo Institute for Conservation Medicine and wildlife veterinarian.
Unlike most sexually reproducing species where genetics is the primary determinant of the sex of an individual, the sex of many reptile species is determined by incubation temperature. On Galapagos, the team found that giant tortoise nests at higher elevations tended to produce males, while those at lower elevations near the ocean, produced mostly females. The Zoo has also participated in research that shows how sex ratios of local river turtles may be impacted by chemicals found in plastics and throughout our environment. Higher levels of endocrine disrupting chemicals, such as those in micro-plastics and present in many water sources, are shown to feminize turtles, thus resulting in a potential for a higher frequency of female turtles.
The study on Galapagos tortoises was completed in a collaboration between Saint Louis University, Zoo Atlanta, the Charles Darwin Foundation, and the Saint Louis Zoo through the Galapagos Tortoise Movement Ecology Programme.
See blog by Charles Darwin Foundation.
You Can Help Turtles in St. Louis
Turtles and tortoises are part of the family Testudines, among the longest lived and the most endangered vertebrate animal group on the planet. To help these important species, remember that all actions matter. St. Louisans can do the following to support free-living turtles:
Females search for nesting sites in the spring. If you see a turtle crossing the road, help it by moving it off the road and to the side it was facing.
If you find turtles safe in the wild, leave them alone.
Increase greenspace when planning yards, gardens, and outdoor spaces with native plants and vegetation.
Help mitigate global temperatures by reducing how much you consume, reusing items instead of buying new ones, and recycling materials. These actions lessen the amount of carbon dioxide that is released into the atmosphere.
Keep conservation top of mind! Every action counts, and your choices make a difference for the species in St. Louis and abroad.
About the Saint Louis Zoo 
Home to over 16,000 animals, representing nearly 500 species, the Saint Louis Zoo is recognized worldwide for its innovative approaches to animal care and management, wildlife conservation, research, and education. One of the few free zoos in the nation, the Saint Louis Zoo is the most-visited attraction in the region. Accredited by the Association of Zoos and Aquariums (AZA), the Saint Louis Zoo is part of an elite group of institutions that meet the highest standards in animal care as well as provide fun, safe and educational family experiences. The Saint Louis Zoo and the other AZA-accredited institutions collectively dedicate millions of dollars annually to support scientific research, conservation and education programs. For more information, visit stlzoo.org.