Toss the Tusk & World Elephant Day
Friday, August 11, 2023
Time:
World Elephant Day Activities 10 a.m. - 2 p.m.
Toss the Tusk Activities 10 a.m. - 4 p.m.
Location:
The Living World (lower level) • River's Edge • Zoo grounds
Price:
Free for all guests
Rain-or-shine event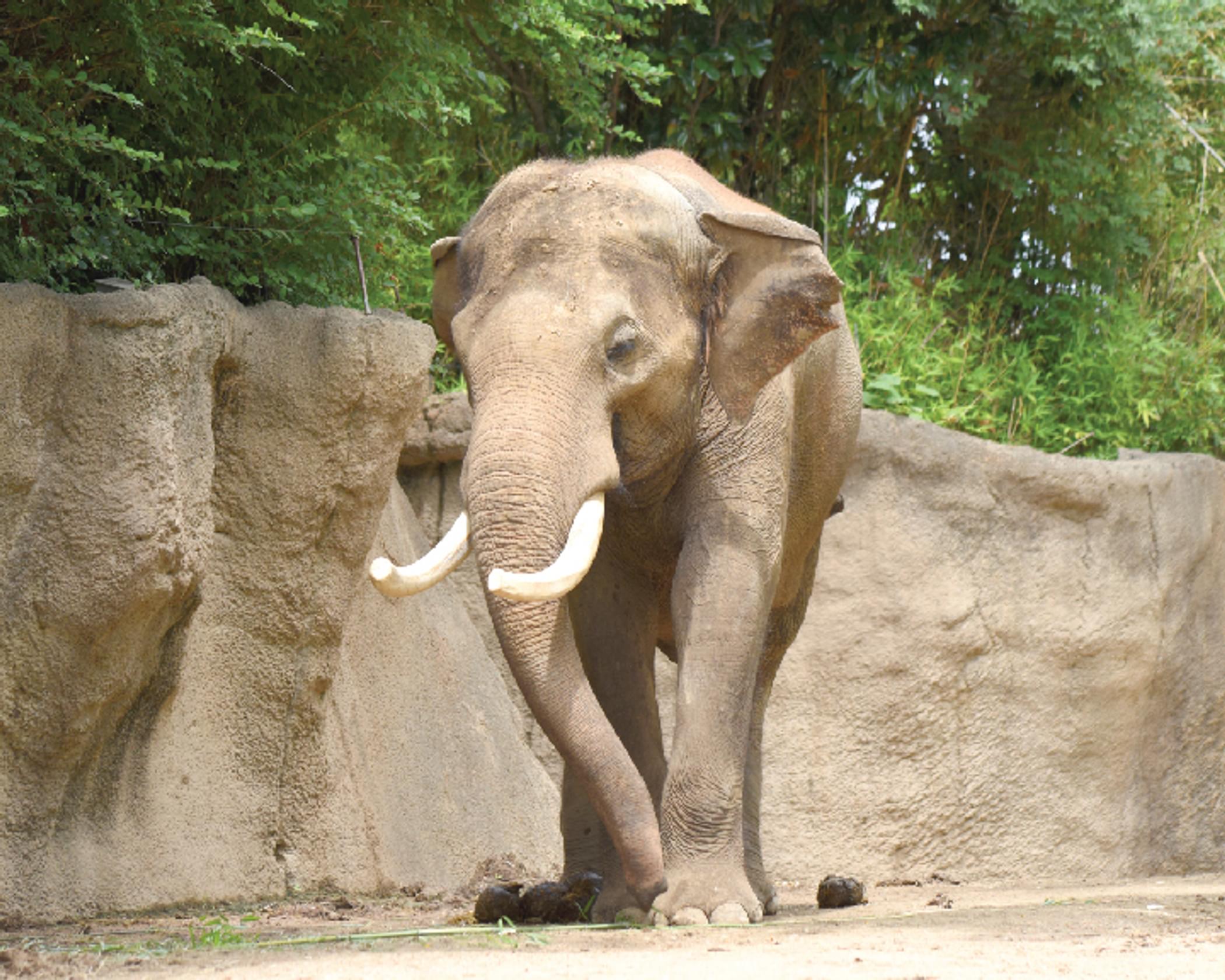 Toss the Tusk
Join the Saint Louis Zoo on Friday, August 11 to learn all about elephants and fighting against illegal wildlife trafficking.

In partnership with U.S. Fish & Wildlife Service and Association Zoo and Aquariums' Wildlife Trafficking Alliance, guests have the opportunity to surrender elephant ivory, helping reduce wildlife trafficking worldwide. Guests also will learn how to protect animals from wildlife trafficking and protect elephants from extinction.

The public can bring their unwanted ivory for proper disposal to the lower level of The Living World building.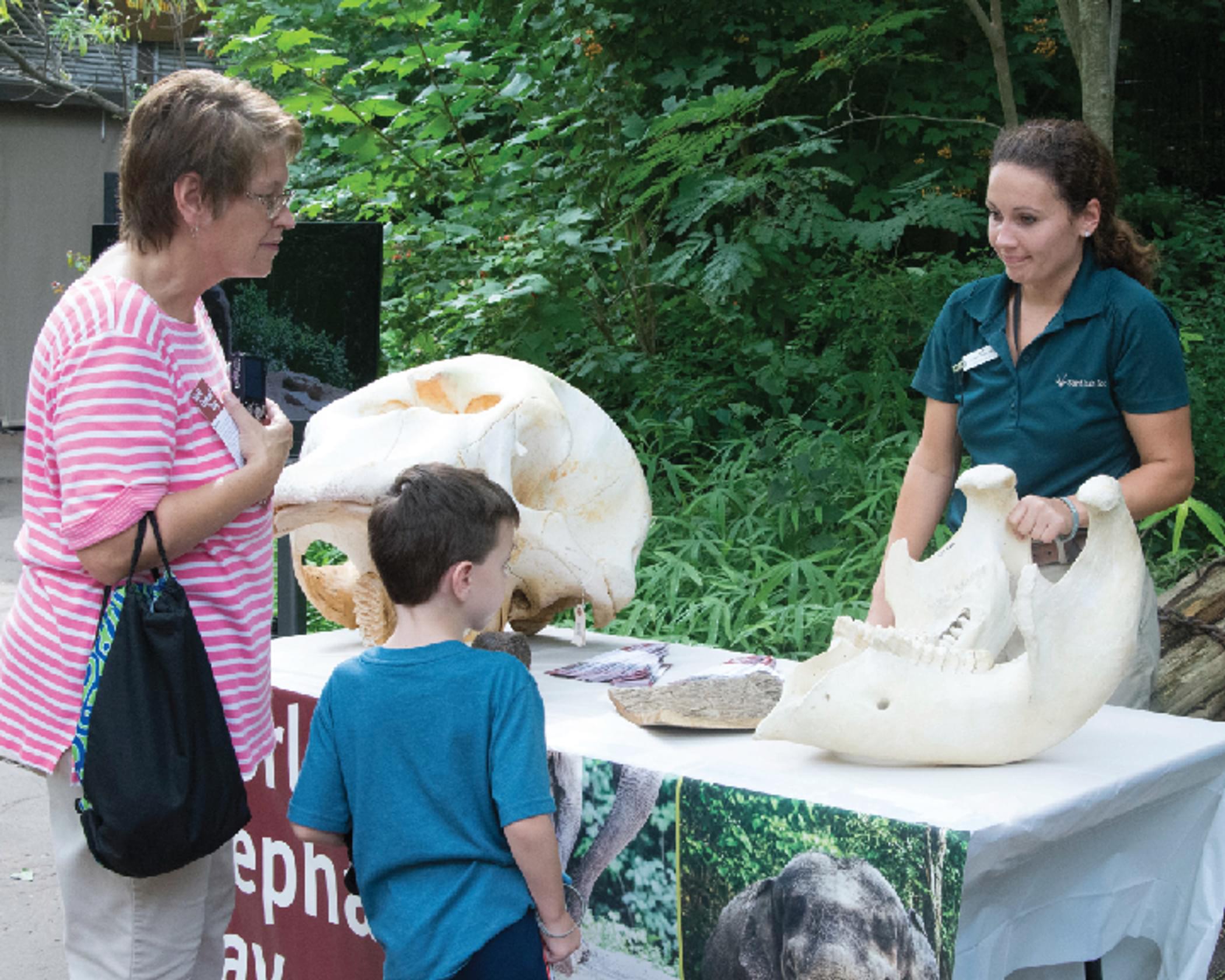 World Elephant Day
The Saint Louis Zoo also will host World Elephant Day. Join in on the festivities around the Zoo.
Meet keepers who care for the elephants in River's Edge.

Watch the elephants receive e

nrichment near the elephant habitats.
Bring the kids for interactive, educational activities.
Indulge in a Vietnamese Rice Noodle Salad and elephant-shaped cookies for lunch at Café Kudu. Starbucks will offer an Asian Elephants-Pachyderme Paradise drink. All food and drink specials are available for purchase.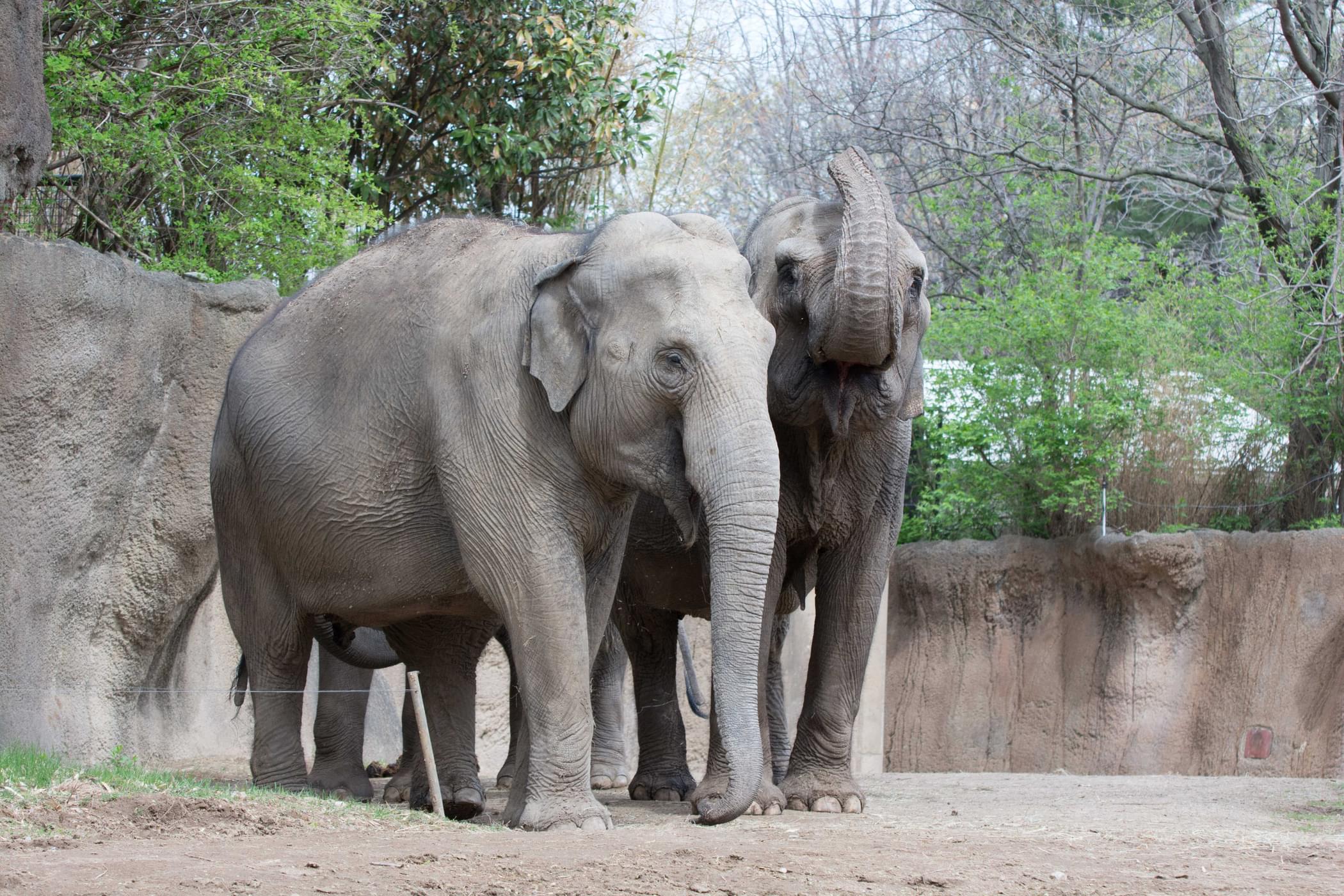 Don't forget a souvenir!
Return home with a 'trunk' full of goodies from our gift shop.
Adopt an elephant through our Zoo Parents Program
What are some examples of elephant ivory products?
Elephant ivory may exist in uncarved form, as whole or partial tusks, or may be carved. Common examples of carved elephant ivory products include:
Jewelry- necklaces, bracelets, or cufflinks
Household goods- napkin rings, ashtrays and cutlery handles
Art pieces- carved figurines.
Ivory has also historically been used in musical instruments such as piano keys or inlays, as handles of weapons or as personal goods like hair combs.
Toss the Tusk FAQ
Looking for more information? View our frequently asked questions.
Toss the Tusk is a series of events taking place at zoos across the United States to raise awareness and change behavior related to illegal wildlife trafficking, including the elephant ivory trade. Organized by the Association of Zoos & Aquariums' Wildlife Trafficking Alliance (WTA) and the U.S. Fish & Wildlife Service (USFWS), Toss the Tusk encourages the public to support long-term conservation efforts by attending a local event and contributing wildlife products, such as ivory, to eliminate them from the market and reduce demand. Learn more about Toss the Tusk here.
Elephant ivory is a hard white substance derived from the tusks of elephants. Tusks are teeth (modified incisors) comprised primarily of dense bone tissue (i.e. dentine). Ivory was used to craft both practical and ornamental goods in certain cultures, and the international trade of elephant ivory was legal and largely unregulated prior to the passage of laws such as the Endangered Species Act (ESA) and the Convention on International Trade in Endangered Species of Wild Fauna and Flora (CITES), an international treaty to ensure that international trade in wild plants and animals does not threaten the survival of the species in the wild. Demand for ivory poses a serious threat to the long-term survival of elephants, and today, international commercial trade, sale, import and export of ivory products is closely regulated or prohibited.
The illegal ivory trade does more than threaten the survival of elephants. Elephants play an important role in their habitats by eating high numbers of seeds and dispersing them over long distances, knocking down trees as they browse, returning nutrients to the soil in their feces, and more. Elephants also promote plant diversity, increase habitat for grasses and grazing animals, and nourish their environment. As a result of this ecosystem engineering, elephants are considered keystone or flagship species. Declines in elephant populations due to the ivory trade mean fewer elephants to support healthy ecosystems and may drive declines of other wildlife.
We must act quickly and effectively to save elephants from extinction. But most importantly, we must act together. By surrendering elephant ivory, you will help ensure that it will not drive the demand for the product and not be made available on the market. By removing ivory products from the market, we can help keep these majestic animals alive for generations to come.
No. It is NOT illegal to possess these items if they were lawfully acquired.
In 2016, a near-total ban on the commercial trade of African elephant ivory went into effect in the United States. However, the new regulations do not restrict personal possession of ivory. If you already own ivory—an heirloom carving that's been passed down in your family, or a vintage musical instrument with ivory components—you can still legally own those pieces.
Ivory surrendered at Toss the Tusk events will be collected by representatives from the U.S. Fish and Wildlife Service and safely transported to the U.S. Fish and Wildlife National Wildlife Property Repository in Colorado, where it will be stored securely. Once there, ivory can support conservation work benefiting elephants in several ways:
Education
Seeing and even touching tusks or ivory carvings is a powerful experience for many people interested in wildlife or conservation. Surrendered items may become part of education projects led by the U.S. Fish and Wildlife Service or may be loaned to other federal agencies, state agencies, accredited zoos or aquariums, museums, universities and more, inspiring learners of all ages to care about wildlife and do their part to help African and Asian elephants and other species around the world. By surrendering elephant ivory, you are supporting educational experiences that create powerful emotional connections with nature, encourage people to seek careers in conservation, increase awareness and understanding about complex wildlife issues, and inspire the next generation of conservation scientists.
Training
Law enforcement agencies are vital partners in efforts to combat the illegal ivory trade. Surrendered ivory items may be used to train law enforcement staff to identify ivory and be used as scent training for law enforcement canines, which will help agencies better detect and seize illegal ivory shipments. These trainings are done with local, state, federal and international law enforcement partners, and support conservation work across the world. Your surrendered ivory products provide agencies and trainers with a wider array of training material, increasing their capacity to recognize illegal elephant ivory products and apprehend ivory traffickers.
Research
Conservation scientists and researchers may examine wildlife products as part of their studies. Raw or carved ivory products may hold important clues to questions about elephants or other species with ivory, or may reveal important information about the historic or current ivory trade. Surrendered ivory products may provide researchers with additional data that might not have existed before, and increase the amount of ivory material available for these studies. Findings from this research could be used to shape conservation priorities or new scientific studies, inform law enforcement training or detection efforts, provide new standards for conservation education, or guide future conservation policies toward species used as elephant ivory substitutes, all benefiting wildlife in the long term.
Outside of Toss the Tusk events, you may surrender unwanted items to the National Wildlife Property Repository. Visit U.S. Fish & Wildlife Service's website and scroll to the "abandonments" section to learn how. Or, contact the National Wildlife Property Repository at nwpr@fws.gov or (303) 287-2224.
Even if you do not have ivory to surrender, we hope you will attend a Toss the Tusk event to show your support for elephants! Other ways you can help elephants are:
Share a message on social media using the hashtag #TosstheTusk, alerting your friends and family about Toss the Tusk.
Purchase Save Vanishing Species semi postal stamps to support conservation efforts of African and Asian elephants and other endangered and threatened animals around the world.
Learn how to #BuyInformed to ensure you are not inadvertently contributing to the illegal wildlife trade while you shop or travel.
The Saint Louis Zoo is a world leader in saving endangered species and their habitats. The Saint Louis Zoo WildCare Institute has 16 centers, supporting many different species of animals in need. The Center for Asian Elephant Conservation works with partners to focus on Asian elephant management and recovery, conservation science and education. The ultimate goal is to save the endangered Asian elephant from extinction.
The Zoo is home to nine Asian elephants that are part of a multigenerational family. We are deeply involved in Asian elephant program leadership, conservation and research in zoos, and have celebrated five Asian elephant births since 1992, significantly contributing to the AZA's collaborative Species Survival Plan for this species.
Conservation is a priority for AZA-accredited facilities and is a key component of their missions. As wild populations of elephants continue to decline in Africa and Asia, AZA-accredited zoos are playing a vital role as stewards of an important part of the world's heritage, while also supporting conservation programs in the wild. AZA institutions care for 161 African and 154 Asian elephants in 62 AZA-accredited zoos. AZA-accredited facilities are supporting several elephant conservation projects, including anti-poaching, human-wildlife coexistence, habitat protection, and conservation education. Elephant research efforts by AZA facilities are primarily focused on disease/epidemiology, health and behavior. Altogether, 80 AZA members reported spending nearly $7.5 million on both African and Asian elephant conservation and research between 2019 and 2021.
The U.S. Fish and Wildlife Service's Office of Law Enforcement (OLE) enforces laws that protect wildlife. Special agents investigate wildlife crimes within the United States and abroad, including investigations into the illegal ivory trade. Wildlife Inspectors work at U.S. ports of entry facilitating the robust legal wildlife trade and interdicting illegal wildlife and wildlife products. Other OLE staff collect intelligence, analyze forensic evidence, train domestic and international counterparts, and talk with the public about the importance of conserving elephants and other species.
Beyond this, the U.S. Fish and Wildlife Service's International Affairs program provides support and coordinates domestic and international efforts to protect elephants and other species of international concern. This includes providing financial and technical assistance for elephant conservation efforts through its conservation grants programs, in particular through the African Elephant Conservation Fund and Asian Elephant Conservation Fund. It also includes administering domestic laws and international treaties, including the Convention on International Trade in Endangered Species of Wild Fauna and Flora (CITES), and issuing permits allowing for legal, sustainable wildlife trade. This International Affairs' work is a vital component of efforts to conserve elephant populations and other species.
Report wildlife crime to 1-844-FWS-TIPS (1-844-397-8477) or online at the U.S. Fish and Wildlife Service Wildlife Crime Tips page.
Want to learn more about Asian Elephants?