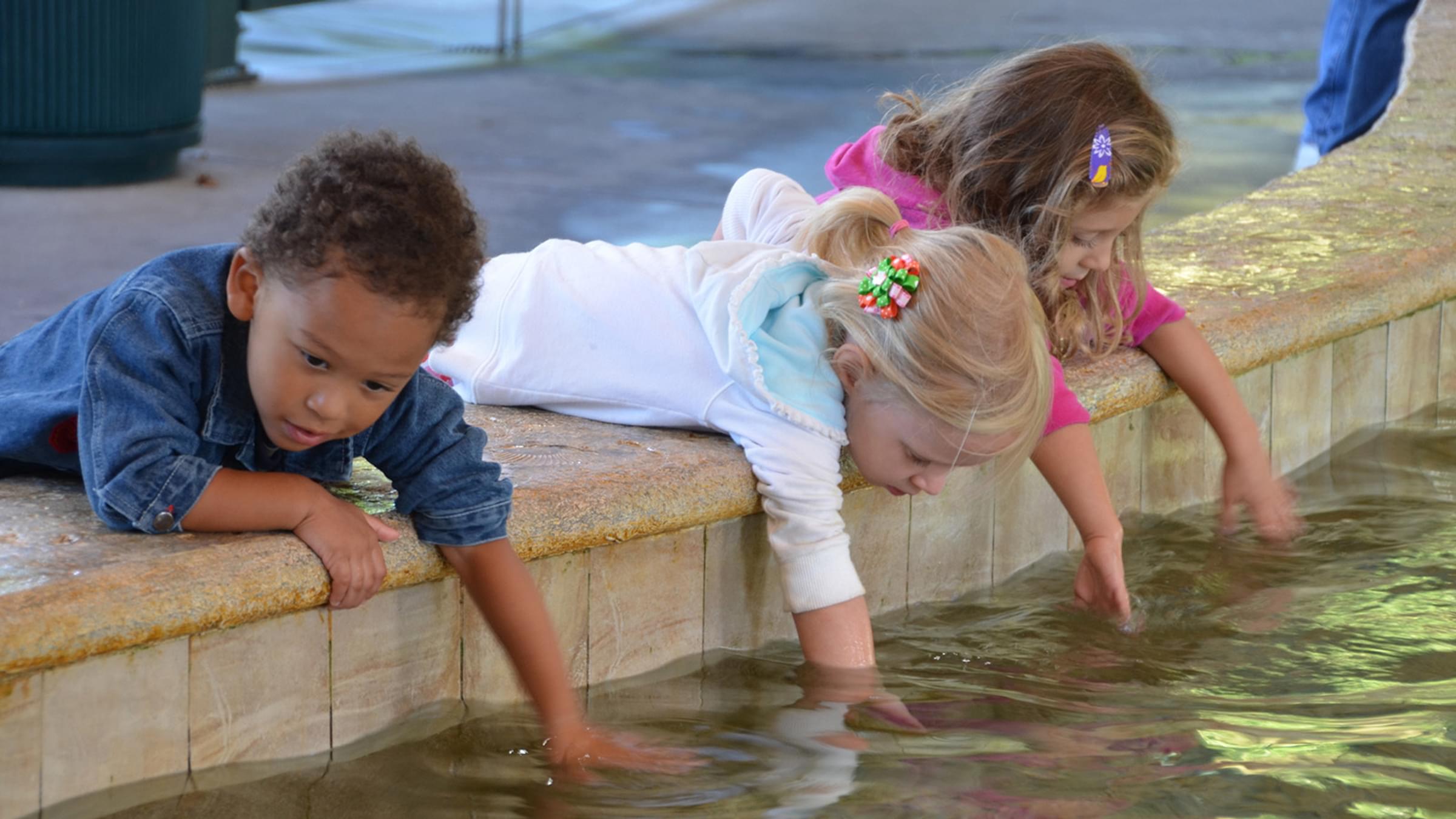 Human Health Benefits of Visiting Zoological Institutions
Conservation Science
We know that spending time in nature can be beneficial for human health both mentally and physically. What about a visit to the zoo? Zoos accredited by the Association of Zoos and Aquariums (AZA) annually attract more than 175 million visitors from infants to the elderly. Do our guests experience similar health benefits?
The Saint Louis Zoo Institute for Conservation Medicine has set out to answer this question, beginning with two studies that investigate the role that zoos play in stress reduction. In partnership with other Saint Louis Zoo departments, we measured the psychological and physiological responses of Zoo visitors to two different types of animal experiences. These studies lay the groundwork for additional projects exploring how the range of experiences at zoos may be beneficial to the health of our visitors.
A Touch Tank Experience with Stingrays Makes You Happier
This was one of the first human health studies conducted at an AZA institution to evaluate health benefits to visitors from an immersive animal experience in a zoological setting. We measured physical and psychological indicators of stress in visitors as they interacted with animals at Saint Louis Zoo Stingrays at Caribbean Cove. To track heart rates, study participants wore Polar Heart Rate monitors as they took part in the stingrays and shark touch tank experience, opportunistically touching rays that swim in the shallow water. Participants also completed a short mood questionnaire before and after their experience as a self-reported measure of stress relief. We found that study participants were happier, more energized and less tense after participating at the stingrays exhibit. Interestingly, the heart rate variable data was a little less clear. Although petting stingrays may be calming, the occasional shark swimming nearby may interfere with heart rate data!
This study was published in 2016.
A Walk Through the River's Edge Makes You Healthier
Zoo scientists recruited visitors to take part in a study, this time measuring changes in visitor blood pressure, cortisol levels and psychological parameters (think energy and happiness scales) from a walk through the Saint Louis Zoo River's Edge exhibit. River's Edge is a three-quarters of a mile, heavily planted, winding trail exhibit, which is home to hippos, rhinos, cheetahs, Asian elephants, Andean bear, African painted dogs, dwarf mongoose and other species. Before and after entering River's Edge, each study participant had their blood pressure and a saliva sample taken and completed a short mood questionnaire, same as the previous touch tank study. Similar to the results in the Stingrays at Caribbean Cove study, study participants reported that they felt happier, more energized and less tense after their walk through the River's Edge exhibit. Their blood pressure and salivary cortisol also went down significantly. Together, this provides good evidence that walking through an immersive exhibit at the Zoo can lower stress.
This study was published in 2020.
The Take-Away
These studies indicate that a trip to the Zoo may provide visitors with health benefits. At a time when people are increasingly disconnected from the natural world, understanding the health benefits of connecting with nature through zoos is more important than ever. More research will help us know what the long-term benefits might be and may add human health benefits to the list of important services that zoos can provide to society.