It's been over a year since the first case of COVID-19 was confirmed in the United States. Since then, we've lost nearly 500,000 friends, family members and neighbors to this virus, with 28 million infections. Worldwide, the death count has reached 2.4 million.
As we line up for our vaccines with shaky smiles and lean toward "normalcy" again, we desperately want to file 2020 away in a distant memory box – but we should not. It's time to focus squarely on preventing the next devastating pandemic.
And there's one largely untapped opportunity with huge potential: innovative teamwork between animal experts at world-renowned zoos and aquariums, and human disease experts.
One Health Approach
About 75 percent of emerging infectious diseases are shared between animals and people, including COVID-19 and other recent viral threats such as Ebola, SARS, MERS and H1N1. These threats are often caused by an expanding human population, pushing deeper into wilderness areas, slashing forests and sparking wildlife trade that helps to fuel disease spillover events and even pandemics.
One shield against pandemics is a One Health approach – a collaborative, multidisciplinary structure recognizing that the health of people, animals and our shared environments are connected.
And within One Health lies a vastly underused opportunity: for experts in human health to work alongside wildlife health and conservation veterinarians and other wildlife professionals to learn about, and prevent, such outbreaks.
Zoos and Aquariums are Key
Many of these animal health and conservation experts work for one of the 240 reputable zoos and aquariums in the U.S., a network that's one of the largest forces in conservation today.
Those premier facilities, which earn accreditation by meeting rigorous requirements for animal care and science, are much more than attractions. They employ highly specialized wildlife health experts, and together they invest nearly a quarter of a billion dollars annually for field conservation around the world.
Nearly every major U.S. city has at least one such facility. With a diverse group of professionals that includes biologists, veterinarians, animal welfare specialists, and educators, they're perfectly positioned to advance One Health strategies locally, regionally and nationally.
In partnership with local universities and medical centers, these zoo experts already serve as key members of One Health teams working to prevent health crises by monitoring wildlife health, responding to outbreaks, and relocating and reintroducing endangered wildlife.
Watchful Sentinels Against Disease
It's been two decades since zoos were first enlisted to monitor the spread of a cross-species disease, the West Nile virus. Then in 2015, they were watchful sentinels against the deadly "bird flu."
And today, a world away in places such as Kenya, Ecuador and Madagascar, the Saint Louis Zoo Institute for Conservation Medicine researches and helps solve issues to keep domestic animals, wildlife and humans healthier. In Kenya, for example, ICM researchers identified why drinking raw camel milk can make people sick, then worked with local communities to prevent those illnesses.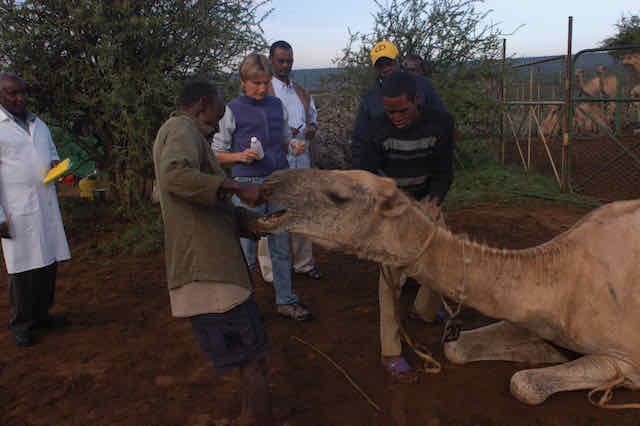 Sharing Conservation Knowledge
Zoo and aquarium staff have something else, too: face time with the public, in a big way. In a typical year, more than 181 million people visit U.S. zoos and aquariums. That's a massive classroom to share important health and conservation knowledge.
Protecting People, Wildlife, Land and Water
The concept is simple: to protect people, we also must protect wildlife, our land and our water.
A stronger alliance among zoo and aquarium wildlife and veterinary experts, working side-by-side with human health professionals, is certain to bring innovation – and a resulting One Health framework in every city could become a critical line of defense against future pandemics.
This is a bold and exceptional opportunity — one we must not squander. It can help ensure that as we see the light at the end of this COVID-19 tunnel, it's not simply another viral train bearing down on a vulnerable world.
About Dr. Deem
As an epidemiologist and veterinarian, Dr. Sharon Deem has been on the front lines of infectious disease around the world. Dr. Deem specializes in One Health, the understanding that the health of people, animals, and the environment are inherently connected. She is DVM, Ph.D., Diplomate American College of Zoological Medicine, and Director of the Saint Louis Zoo Institute for Conservation Medicine.