St. Louis, MO (May 12, 2023) Today, the Saint Louis Zoo shared plans for the new experience for children and families on site of the current Emerson Dinoroarus, formerly Emerson Children's Zoo.

"Thanks to an incredibly generous $15 million lead gift from the Henry A. Jubel Foundation, we are able to carry forward the goal of the previous Children's Zoo by providing dynamic experiences for children and families that will inspire a love of animals and learning, but in new and innovative ways," said Dwight Scott, Dana Brown President & CEO, Saint Louis Zoo. "Destination Discovery will have animal adventures at every turn. You will be able to explore and play side by side with animals, building connections to the natural world."
Development of the 2.8-acre Henry A. Jubel Foundation Destination Discovery is estimated to cost $40 million with funding coming from a variety of sources, including philanthropy. With a target public opening slated for 2026, construction will begin in 2024. The temporary exhibit Dinoroarus will close Nov. 5, 2023.
The Jubel Foundation is named for Henry A. Jubel, who immigrated to St. Louis from Germany. Today, Henry's legacy is carried out through his family's philanthropy as longtime supporters of the Zoo.
"Our family has a longstanding and deep connection with the Saint Louis Zoo," said Melissa Jubel Markwort, Executive Director, Henry A. Jubel Foundation. "When the Children's Zoo closed in 2020, as a family we knew we wanted to be a part of bringing this space back to life and in an even better way."
The Saint Louis Zoo is a place where generations have come to play, learn about nature, connect to animals and spend time together. For 51 years, the Children's Zoo was especially important to the Zoo's youngest guests, emphasizing close-up encounters with animals and their caretakers.
A closure during the COVID-19 pandemic gave the Zoo an opportunity to begin reimagining the space to make it even more engaging, immersive and accessible to all guests.
"Connecting with animals and nature is an important part of a healthy, active childhood, and the future of wildlife and wild places depends on the community as a whole caring for and conserving them," said Scott. "When you care for animals, our shared world becomes a healthier place for all living things."
Inspired by a collaborative conservation model, design for the Destination Discovery is informed by science and developed in partnership with the community. Engagement sessions with children and families from diverse backgrounds and abilities helped determine what themes, activities and features would create the best possible experience for guests.
Guest Experiences and Animals
This dynamic 2.8-acre area is designed with the youngest guests in mind, emphasizing close-up encounters with animals in an immersive and hands-on learning environment for guests of all abilities.
"Guests, young and young at heart, will have the opportunity to explore the underground tunnels dug by prairie dogs, splash alongside flamingos, and walk through an aviary. Guests will learn all about animals being part of families and communities just like us," said Michael Macek, Saint Louis Zoo Director. "No visit to Destination Discovery will be the same for guests. We plan to have spontaneous keeper chats and surprise animal experiences, like macaws flying overhead."
While subject to change, here is the initial list with brief descriptions of the guest experiences with working titles as well as animals that will likely be at Destination Discovery:
Animals and Us
The entrance to Destination Discovery starts with a walk into a building where guests are immersed in state-of-the-art interactive projection, projection mapping and augmented reality technology that sets the stage for the rest of the day's adventures. This immersive experience in the Animals and Us building will change with the seasons, so guests can see how our native wildlife and wild spaces change as they visit throughout the year. Live animal habitats will be integrated into the highly interactive multi-media experience spaces.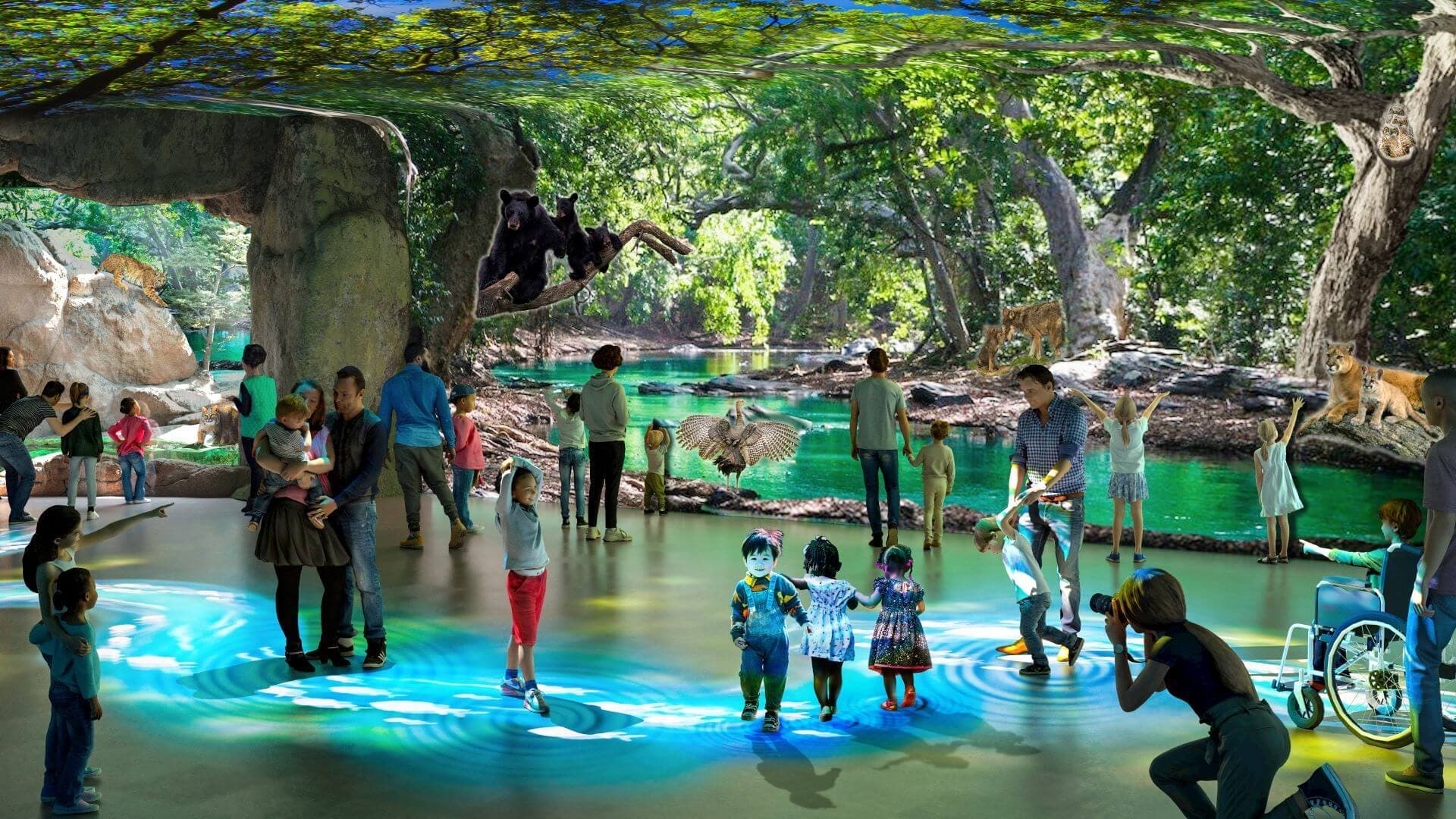 Forest Families
A network of treehouses connected by overhead tunnels will take guests
into the home of the active and fascinating, tree-dwelling coati (pronounced koh-waa-tee), native to Central and South America, Mexico and southernmost portions of the U.S.
The walk-through aviary brings guests close to java finches where they have an opportunity to feed the birds using seed sticks. Both indoor and outdoor components allow for year-round opportunities to interact with the birds.
Tasmanian devils and babydoll sheep are ambassadors for shrinking forest habitat and how human activity interacts with the sustainability of wild animal populations. The immersive Tasmanian devil exhibit, one of only three devil exhibits in the U.S., features a climb-through tree trunk with a wildlife underpass, allowing the devils to reach both sides of the habitat. This area offers guests a great opportunity to learn about wild animals living in communities with people.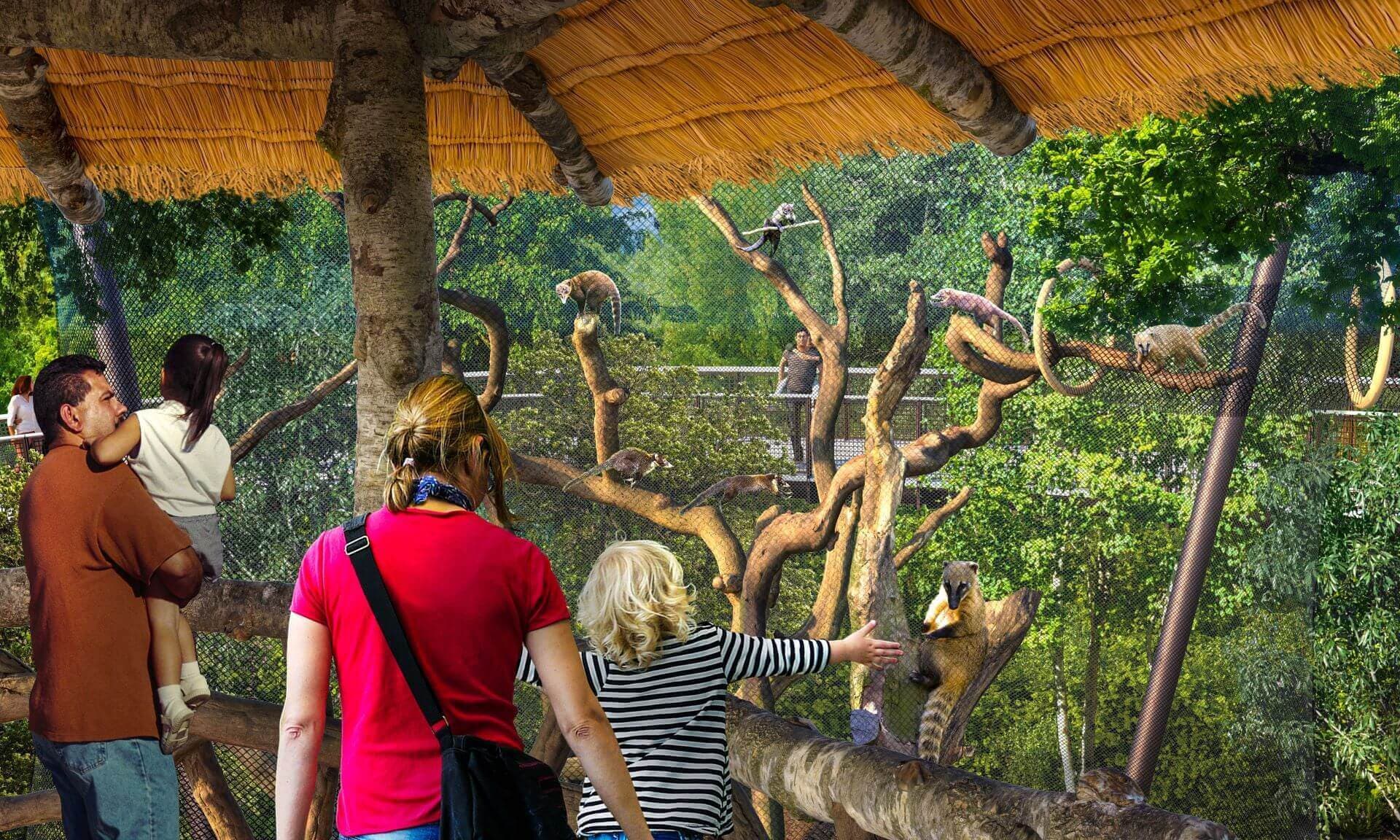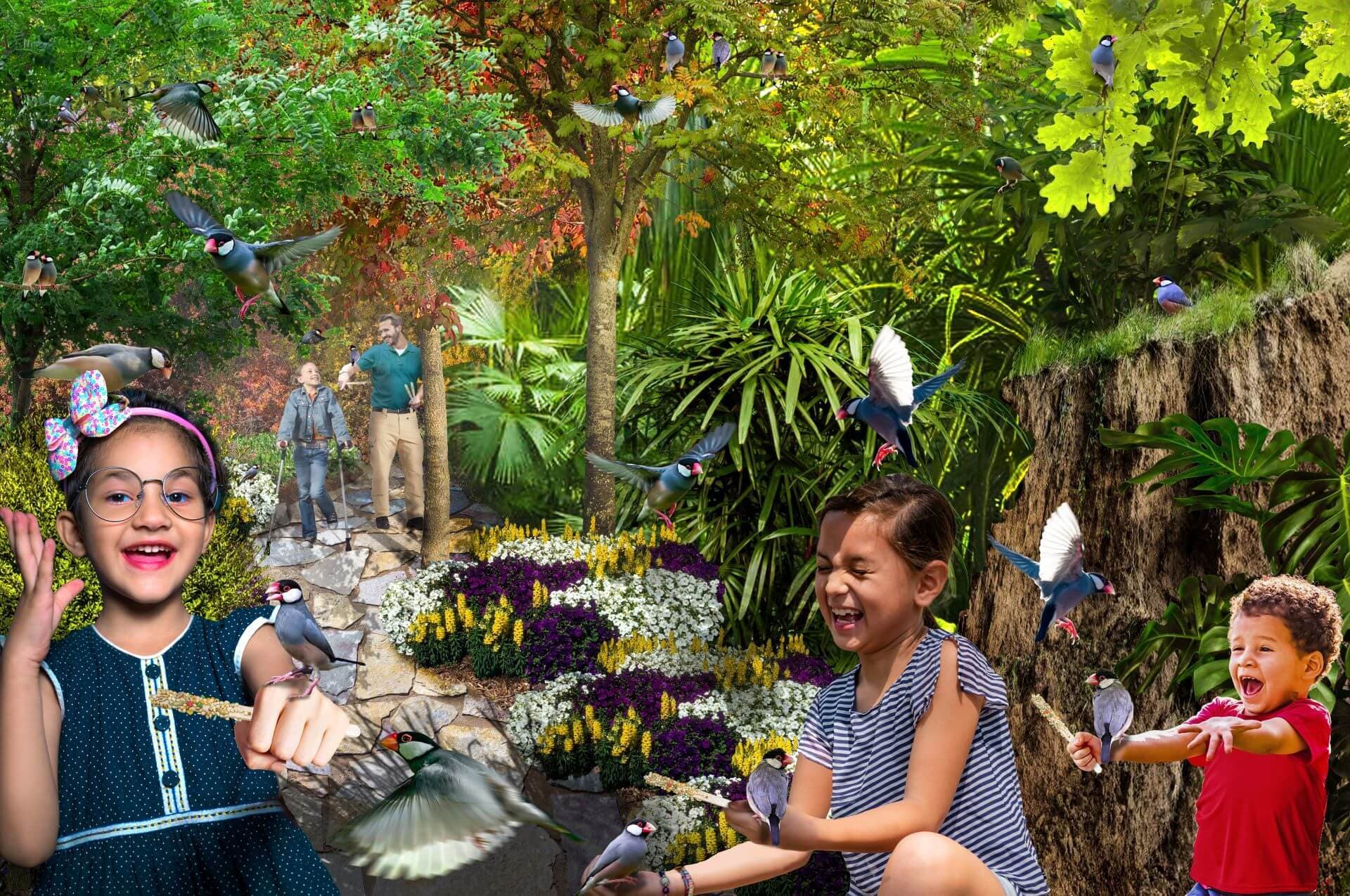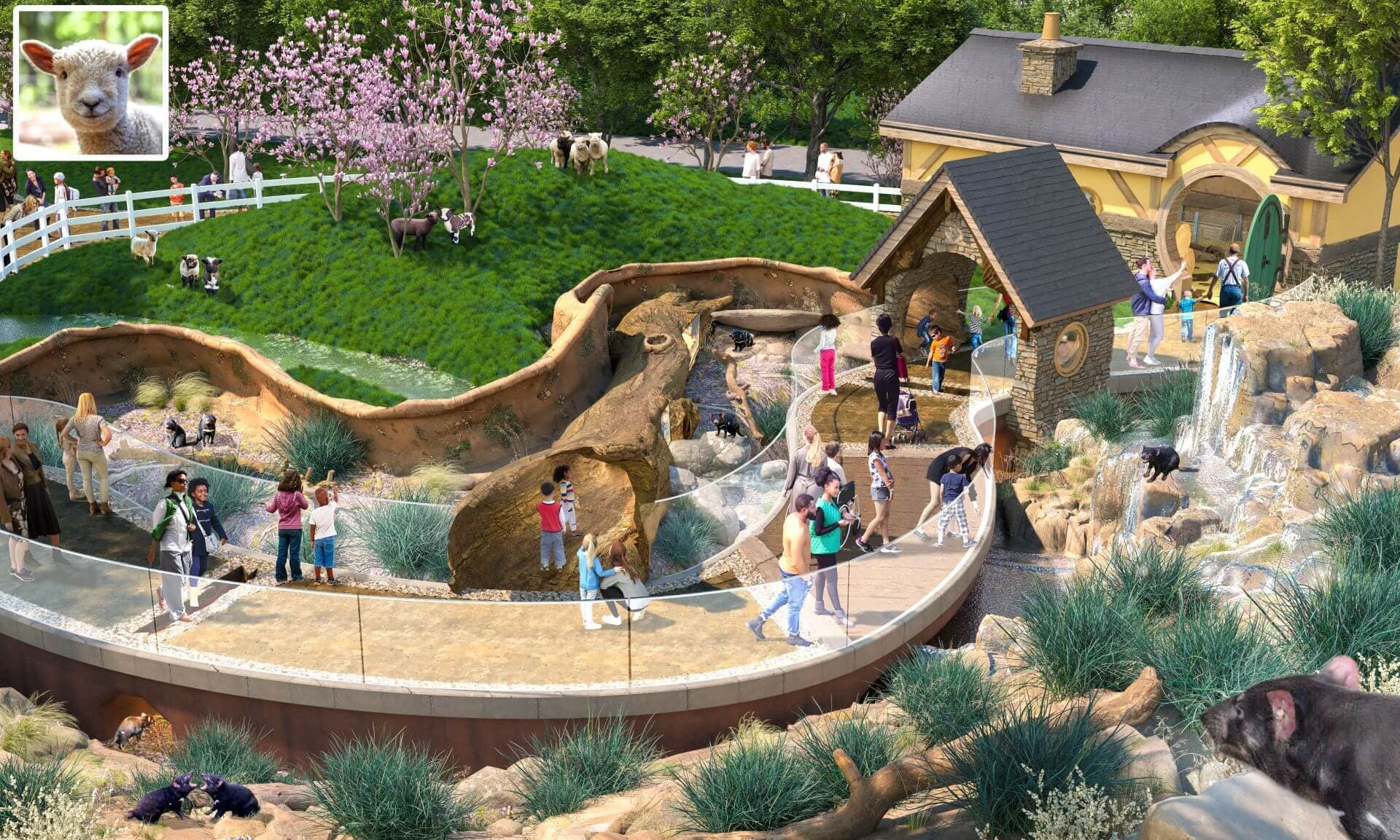 Underground Cities
The Underground Cities habitat allows very close encounters with friendly, approachable animals. The highly immersive prairie dog habitat is fun and enriching for animals and the guests. While the black-tailed prairie dogs create their own underground tunnels and pathways, guests can make their way through human sized tunnels and "pop-up" into the animal habitat for nose-to-nose views.
Guests may walk among Patagonian mara (pronounced mah-rah), a large rabbit-like rodent native to Argentina. Joining the mara will be alpaca, a relative of the llama. This large, walk-in area doubles as an outdoor classroom space for educational programs.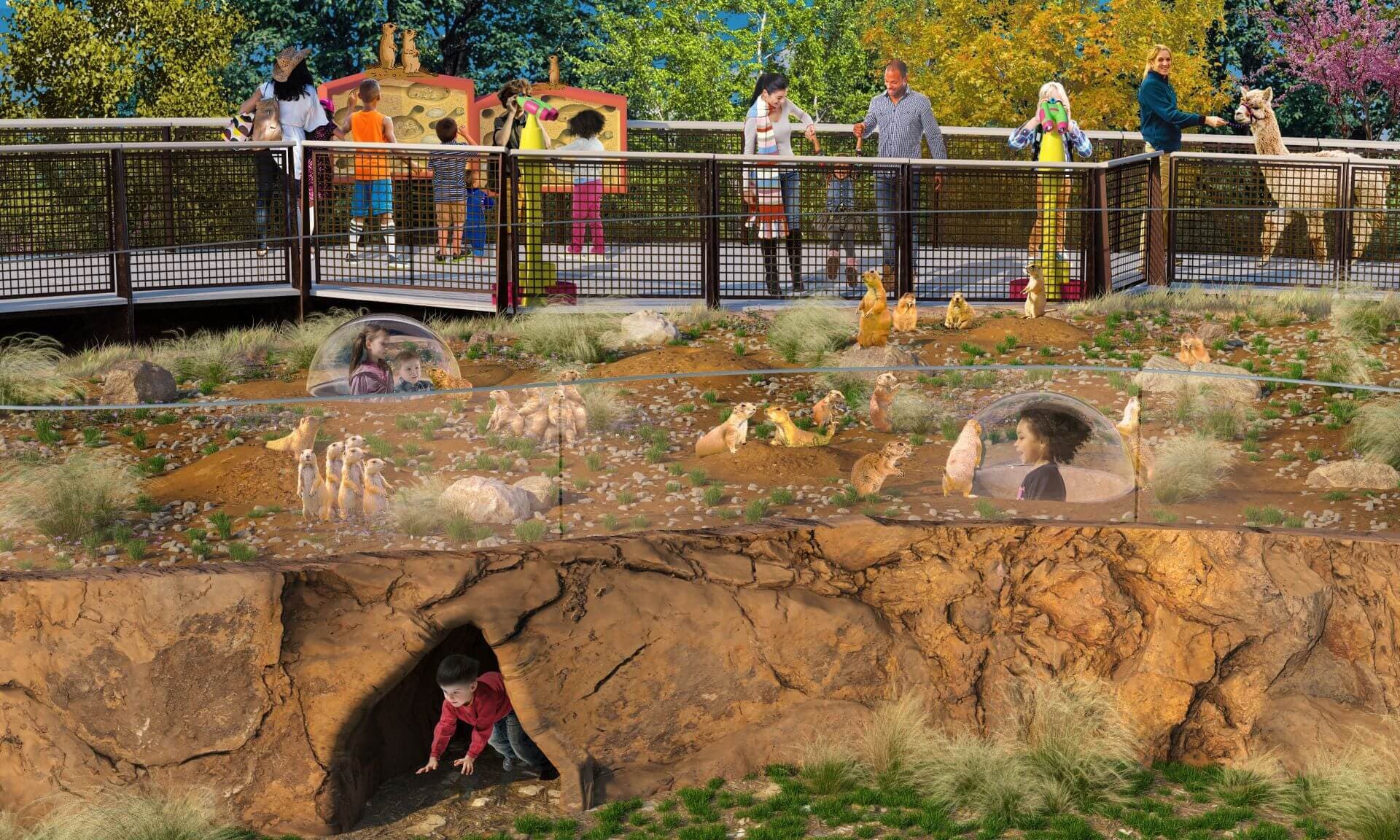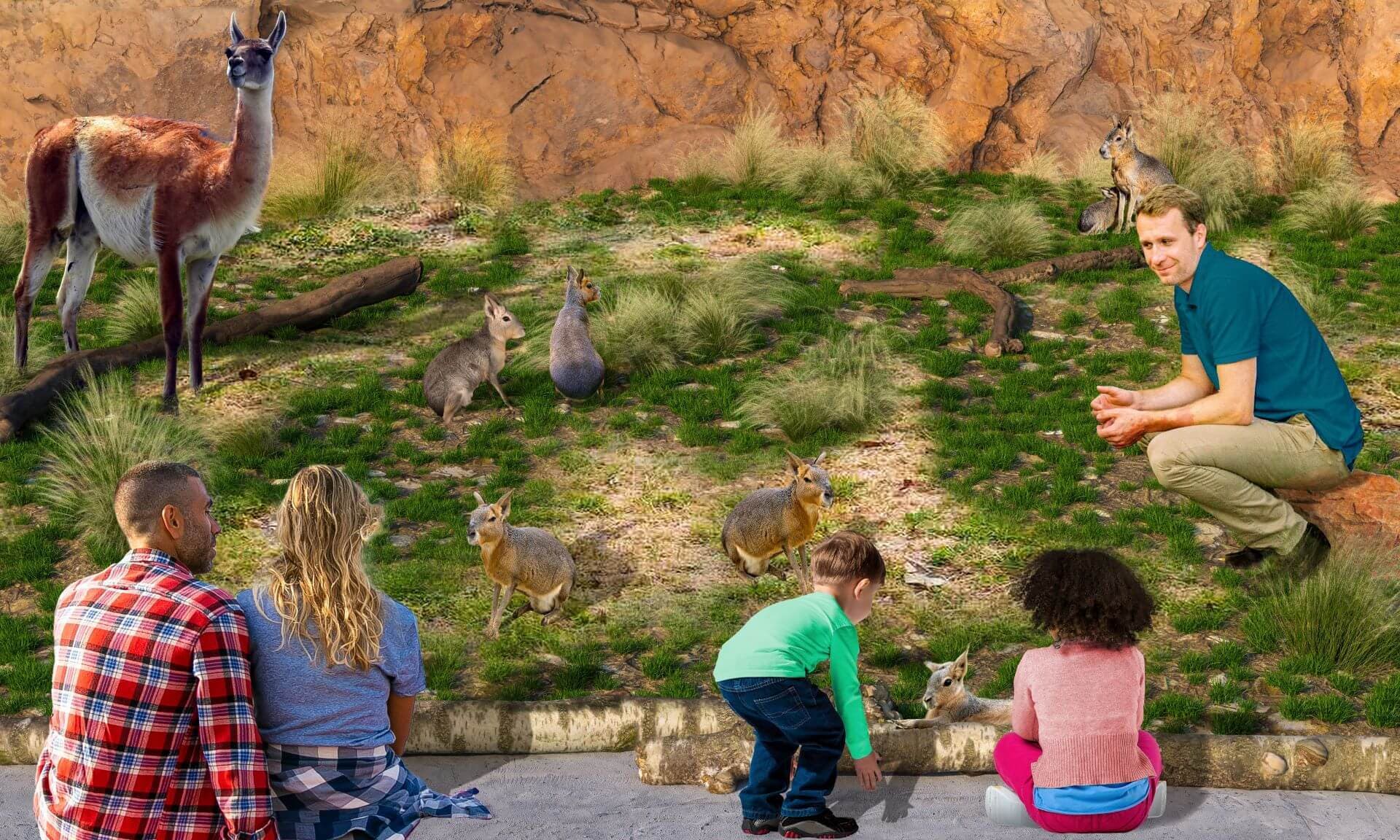 Freshwater Wilderness and Water Play Area
North American river otters return with this expansive Freshwater Wilderness area. Otters will be visible through acrylic panels on the left and right, and also in acrylic flumes overhead. Guests on the Wildlife Overlook will have unique views of the land areas and water surface being used by this active species.
Whimsical animal sculptures and interactive water elements surround the guests at the splash zone. Guests enjoying the splash pad will have amazing views into the Chilean flamingo lagoon. With the help of animal care staff, guests will be able to view these animals up-close and observe their unique adaptations and feeding methods. Close by, a covered dining area is situated with breathtaking views of the splash pad and the flamingo habitat. A covered "Learning Pod" situated on the Wildlife Overlook provides a comfortable, shaded area to learn with live presentations and interactive interpretive elements.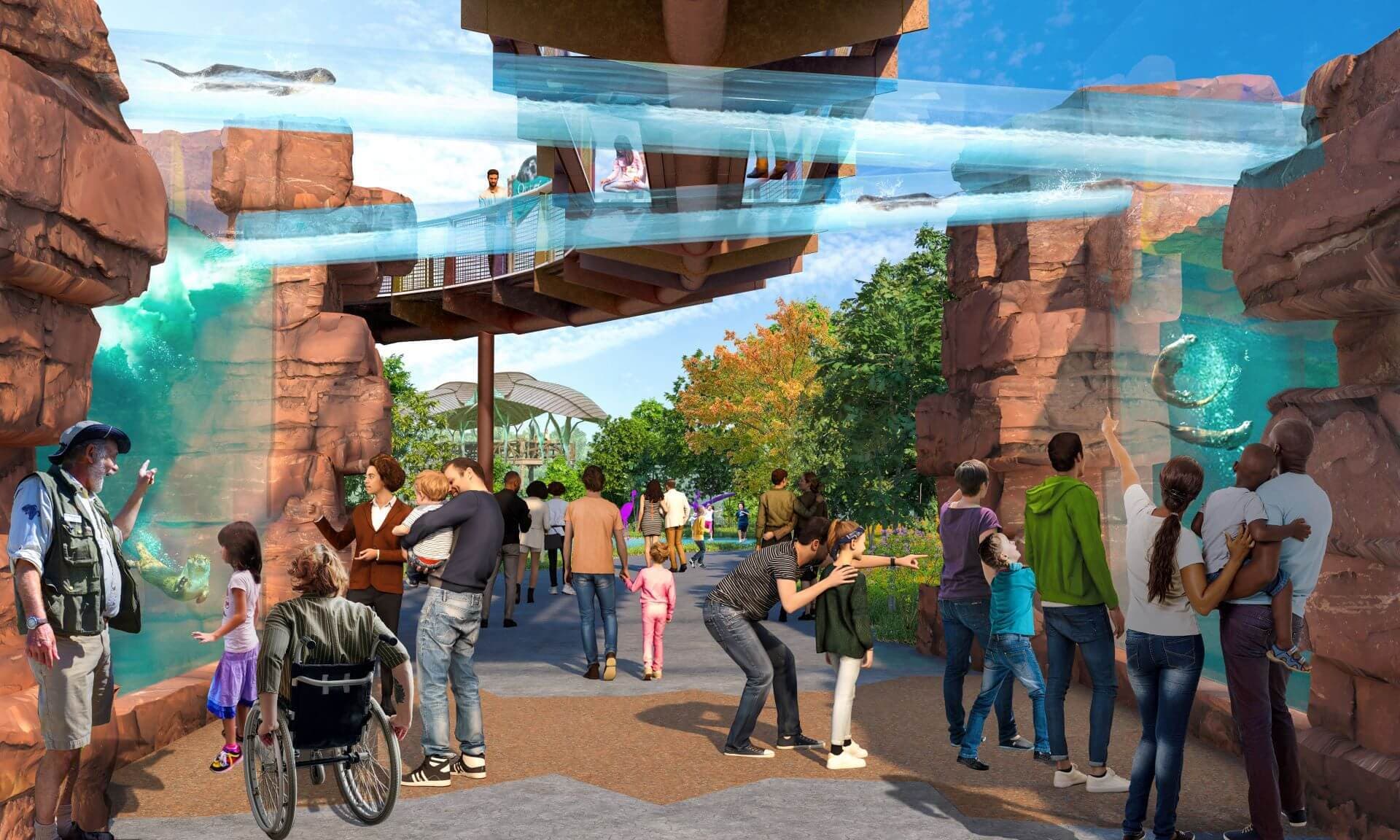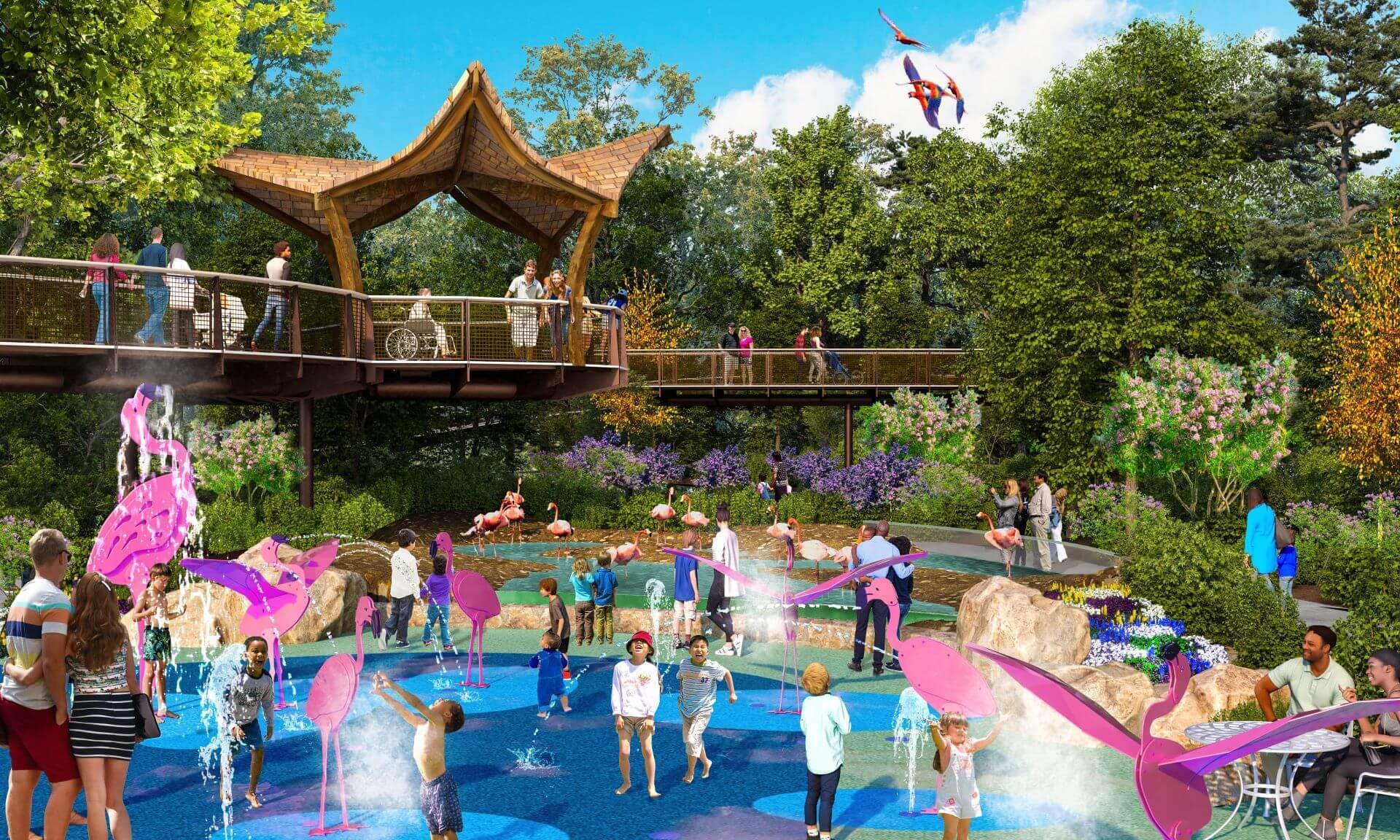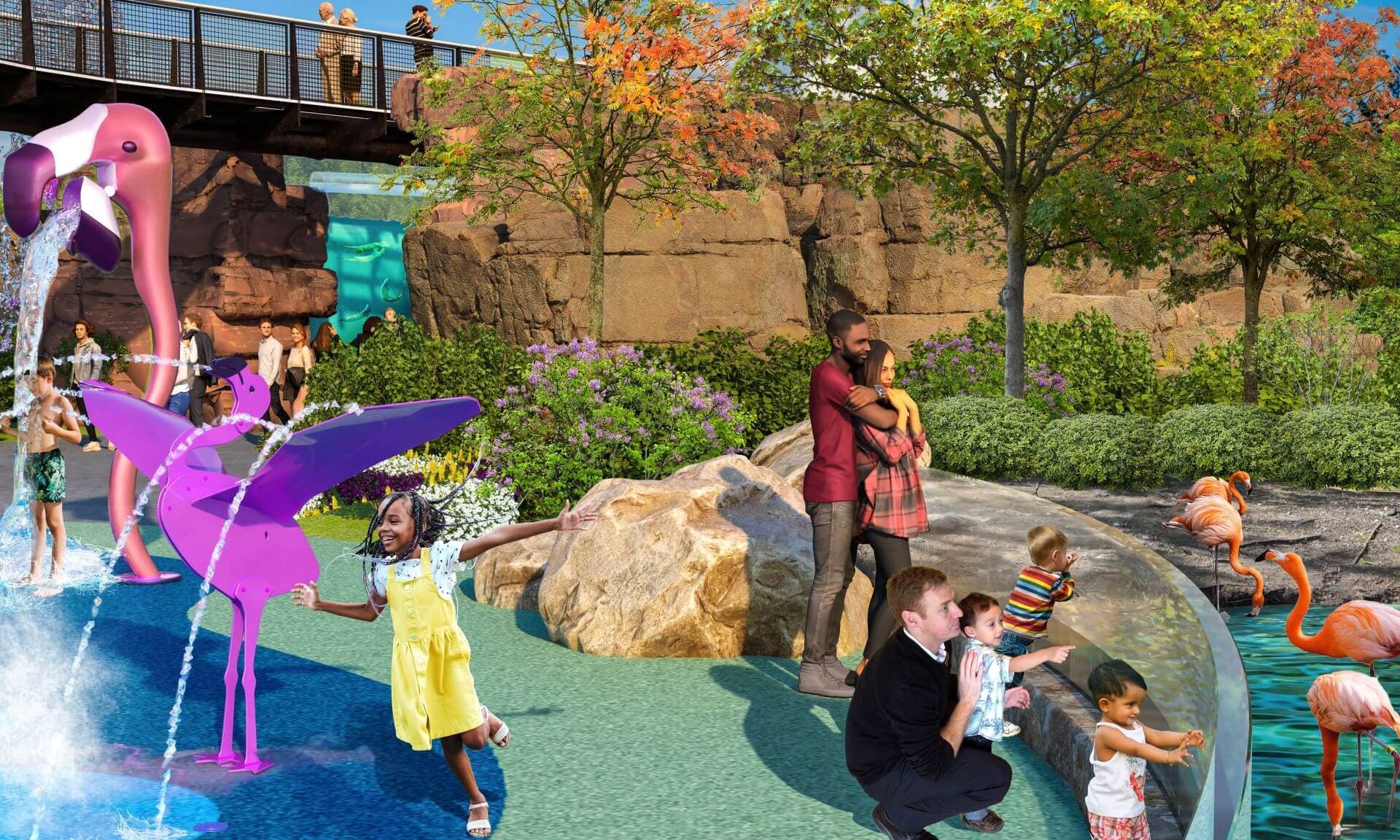 Education Building
Educating children about the importance of animals and their environment is essential to building future conservationists. The Living World building at the North Entrance will be expanded and feature a new ADA-accessible two-story addition dedicated to education programming. The second floor of this new space will be home to the Saint Louis Zoo Preschool educational classes and other programs throughout the year. The first floor Discovery Zone will focus on curated play including activities such as a maker's space, animal pretend play, a nature exchange, habitat building and a dedicated indoor animal encounter area.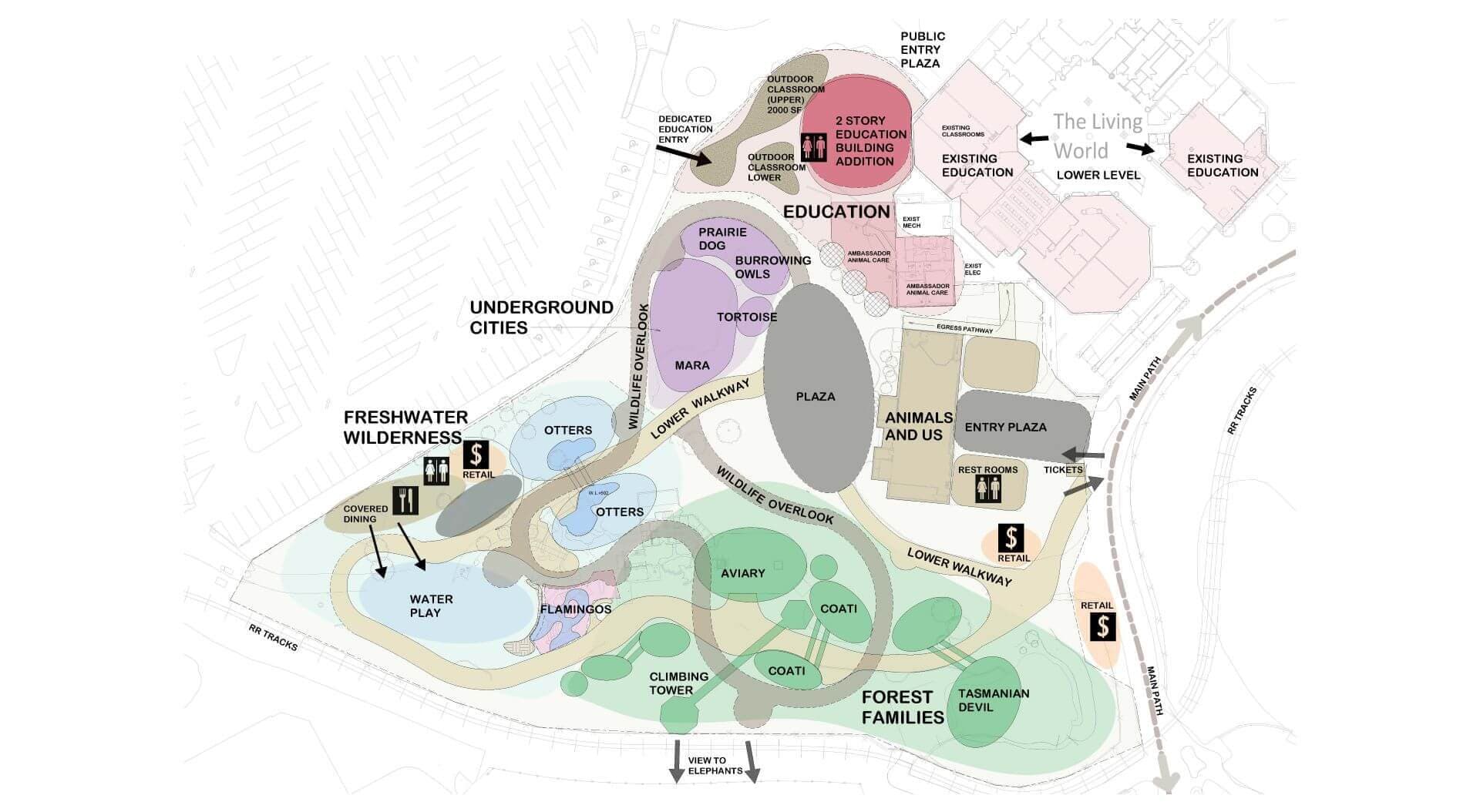 Amenities
The covered dining area also is available as an event space and there will be other food and beverage and retail outlets at Destination Discovery.
Admission
Admission costs and other details for Destination Discovery will be available later. Zoo members may use their member benefits for free admission and Destination Discovery will be included in the Adventure Pass.
History of the Children's Zoo
Charles H. Yalem Children's Zoo opened in 1969
On June 14, 1969, the first Children's Zoo opened at the Saint Louis Zoo. It was the vision of Marlin Perkins, who served as Zoo director from 1962 to 1970, and other zoo leaders, to connect children to animals through contact in a space that offered a sense of adventure. The attraction was then called the Charles H. Yalem Children's Zoo, after the philanthropist's generous donation of $250,000. Prior to this opening, there was a small, seasonal children's area in the Zoo, but this new Children's Zoo was much grander, with woods, caves and walk-through tunnels. Some of the animals included goats to pet in the goat yard, small mammals such as ocelots, bobcats, Arctic foxes, and exotic animals like baby elephants and pythons. A highlight of the Children's Zoo at the time was a nursery for baby animals, which was viewable to the public. If a mother was having trouble caring for her infant, keepers would look after the baby in the nursery. While this was standard for that time, today, every effort focuses on a more natural approach where a baby would remain closer to their mother and family group, even if supplemental feedings need to be given by a caretaker. The nursery closed in the mid-1990s.
Emerson Children's Zoo opened in 1998
In 1997, the Children's Zoo temporarily closed for expansion work. That same year, Emerson Electric came forward with a $3 million gift to the Zoo. On May 16, 1998, the new Emerson Children's Zoo opened in the same location as the original attraction with the same focus on bringing children and animals close together. The Children's Zoo was home to nearly 300 animals, including the endangered Matschie's tree kangaroo, meerkats, fennec foxes, Tasmanian devils, Hoffmann's two-toed sloth, river otters and naked mole rats. Guests could brush goats and pet rabbits and guinea pigs, meet reptiles and amphibians, birds and many more. Kids could explore nature on the playgrounds, which include an acrylic slide through the otter pool, climbing structures, a farm-play area and more. During most summers, the Children's Zoo would feature educational presentations with the animals displaying natural behaviors on a small, intimate family stage. The Zoo announced the permanent closure of the Children's Zoo on Oct. 31, 2020.
While the Zoo worked to reimagine this area, a temporary exhibit called Emerson Dinoroarus opened on April 17, 2021. The highly popular and dynamic temporary exhibit runs seasonally and will close on Nov. 5, 2023. Dinoroarus features 14 different groupings of animatronic and stationary dinosaurs — colorful, prehistoric creatures that move realistically, some roaring and spitting or placidly munching on the lush vegetation. Guests of all ages learn about what scientists can gather from fossils, theories of the dinosaurs' mass extinction and ways everyone can support wildlife.
Vendor and Contractor Opportunities
The Zoo regularly advertises requests for proposals for products and services. Contractors are encouraged to visit the Zoo's online vendor registration system. When feasible and appropriate, the Zoo will post listings of bid opportunities on its website.
The Zoo enjoys the support of the community through the Metropolitan Zoological Park & Museum District. For this reason, the Zoo makes every effort to return that support by contracting with qualified businesses within the District (comprised of St. Louis City and St. Louis County) whenever possible.
For more information on vendor and contractor opportunities, please visit stlzoo.org/vendoropportunities.
About the Saint Louis Zoo
Home to over 16,000 animals, representing nearly 500 species, the Saint Louis Zoo is recognized worldwide for its innovative approaches to animal care and management, wildlife conservation, research, and education. One of the few free zoos in the nation, the Saint Louis Zoo is the most-visited attraction in the region. Accredited by the Association of Zoos and Aquariums (AZA), the Saint Louis Zoo is part of an elite group of institutions that meet the highest standards in animal care as well as provide fun, safe and educational family experiences. The Saint Louis Zoo and the other AZA-accredited institutions collectively dedicate millions of dollars annually to support scientific research, conservation and education programs. For more information, visit stlzoo.org.
###

Media Note and Photos

Eleven hi-res renderings available here, or by emailing pr@stlzoo.org. Pronunciation of Jubel is JOO-bull.
Watch video from May 12 press conference.